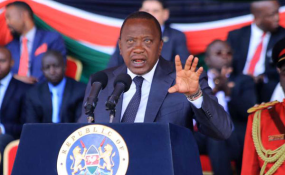 Photo: Daily Nation
By Laban Wanambisi
Nairobi — President Uhuru Kenyatta has slammed claims by the Opposition that the country is staring at a constitutional crisis if the fresh presidential election is not held by the end of next month.
Addressing leaders from pastoralist communities, President Kenyatta reaffirmed that the Constitution is clear that he is the Head of State until a new leader is sworn-in.
"If they think the country does not have a President, I dare them to try do something... we show them that there is no vacuum. There is no need of engaging in a back and forth argument with them," he said.
"I give you that assurance that the State is intact; the government is in place and working and we look forward to a peaceful and successful election on the date that shall be announced by the Independent Electoral and Boundaries Commission (IEBC)."
President Kenyatta was reacting to a statement by Siaya Senator James Orengo who urged Kenyans to brace themselves for a constitutional crisis if the fresh poll is not held within the deadline as directed by the Supreme Court.
Speaking outside the Supreme Court of Kenya on Wednesday night following the delivery of the full judgment of the presidential election petition, Orengo, who is NASA's lead counsel, urged the IEBC to get its house in order as fast as possible to avoid a looming constitutional crisis.
"The danger we now find ourselves in is that if the elections aren't held within 60 days, he (President Kenyatta) will not have the constitutional authority and the legitimacy to stay in that office."
"A constitutional crisis in the sense that the powers that the President would normally enjoy were extinguished very substantially on the 8th of August 2017," he said, adding that "after the August 8 General Election, the President is exercising temporary incumbency."
According to an IEBC Gazette Notice, the repeat presidential election is scheduled to take place on October 17, although the date is clouded in uncertainty since French firm Safran has said it needs more time to re-configure the KIEMS kits.
The Supreme Court nullified the election on grounds that IEBC committed illegalities and irregularities.
President Kenyatta also once again renewed his criticism of the 4-2 majority judgment by Supreme Court that annulled his August 8 win and ordered a fresh poll within 60 days.
"I have heard things I have never thought I can hear in a democratic nation; because some people have reversed everything that Kenyans said they did not want to see when they voted for this Constitution in 2010."
"I was stunned and shocked yesterday when he said that he will not hesitate to overturn the will of the people again if a petition is presented challenging the outcome of the fresh poll," the President said.