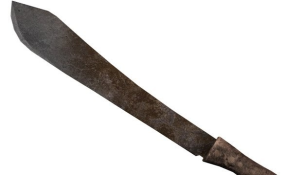 Photo: Daily Nation
Mwenezi — A man played the biblical Good Samaritan to a stranger in need for a place to sleep but rage later got the better part of him as he struck his visitor with a machete for speaking to his wife.
Langutani Pikisani, 38, was not asked to plead to attempted murder charges when he appeared before magistrate Honest Masiiwa. He was remanded in custody to 28 September.
Prosecutor Angelina Makonya told the court that on 6 September this year around 7pm, Trust Dube, 22, arrived at Pikisani's homestead and asked for a place to sleep over night.
Court was told Dube was given a room to put up for the night.
Pikisani then decided to take a quick bath before he retired for bed. However, upon returning from the bathroom, Pikisani found Dube standing in his bedroom talking to his wife Brita Ndlovu, 33, and a misunderstanding ensued between the two men.
An irate Pikisani took a machete which was in the bedroom and struck Dube once on the head.
After committing the offence, Pikisani took his victim to the Neshuro District Hospital where he is currently recuperating.
Pikisani reported the incident to the police leading to his arrest.