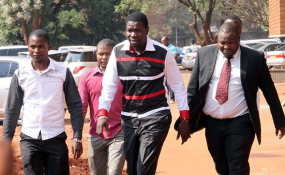 Photo: The Herald
The Constitutional Court has thrown out Prophetic Deliverance Ministry (PHD) leader, Walter Magaya's application in which he was seeking to have the matter in which he is accused of raping a congregate dismissed.
PHD Ministries leader and founder is accused of raping a congregant who is a Midlands State University (MSU) student at one of his residences in Harare before giving her $200.
Magaya's decision to approach the Constitutional Court came after the state led by Michael Mugabe said it was ready to indict Magaya for trial at the High Court and that was after the victim had withdrawn the charges.
The stylish prophet's attorney, Advocate Thabani Mpofu, argued that there was no need to try Magaya because the complainant had not only withdrawn the charges but also revealed that she made a false rape report.
Advocate Mpofu then requested the witness to be summoned to give evidence on the matter, but the stated objected, saying there was no law that allowed the defence to use a state witness or complainant to buttress its case to challenge indictment.
This compelled Magaya's lawyers to seek leave to have the matter referred to the Constitutional Court for determination on whether the State was lawfully authorised to proceed to try their client when the complainant had formally withdrawn the case on the basis that she made false allegations.
In an affidavit filed with the Harare magistrate's courts the MSU student claimed that she was being threatened by some people whom she declined to name not to withdraw her "false charges" against Magaya.
A full Constitutional Court bench on Wednesday dismissed Magaya's application citing some irregularities in the prophet's application.
"The matter be and hereby struck off the roll with no order as to costs," the Apex court said in a one sentence ruling.
This now means that the magistrate could now determine whether the state should prosecute Magaya or not.