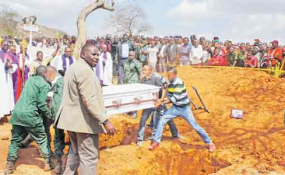 Photo: Sharon Sauwa/The Citizen
By By Sharon Sauwa
Sombre mood yesterday engulfed the residents of Mpwapwa Township during the burial of six relatives of former Deputy Minister of Industry and Trade Gregory Teu, who were killed in a road accident in Masaka Uganda on Sunday.
The burial was held at All Saints graveyard after requiem mass at the Anglican Church.
Thousands of Mpwapwa residents and nearby suburbs joined Mr Teu's family to pray for their souls.
Mourners were overcome with emotions, when Uvuke Anglican Church choir from Dodoma Municipal Council led the mourners to sing a special song for the six road accident victims.
The police, in collaboration with members of the Tanzania People's Defence Forces (TPDF), had to intervene by removing mourners near the graveyard to ease the burial ceremony.
Coffins bearing the bodies of George Teu, Alfred Teu, Paulina Ndagala, Rehema Teu, Sakazi Teu and Ester Teu were transported from Dar es Salam to Mpwapwa for burial by TPDF vehicles.
Delivering a homily before the burial, the Anglican Church of Tanzania (ACT) Archbishop, Dr Jacob Chimeledya, said the loss of Mr Teu's 13 relatives should serve as "a lesson to the rest of us to be ready all the time".
He added that the incident was God's plan and there was no need to blame anyone on the loss.
"There is no need to speculate that either the bride is the cause of the death of the family members. What we can do is to pray for our beloved ones so that they rest in eternal peace," he said.
"Since we don't know, when will be our turn, let us leave everything in the hands of the God, who knows our future. Our responsibility is to live uprightly," he added.
The burial was also attended by Speaker of the National Assembly Job Ndugai, Kibakwe MP George Simbachawene, Deputy Minister of State in the Prime Minister's Office (Policy, Parliamentary Affairs, Labour, Employment, Youth and the Disabled) Anthony Mavunde and Dr Susan Kolimba, he Deputy Minister of Foreign Affairs and East African Cooperation.