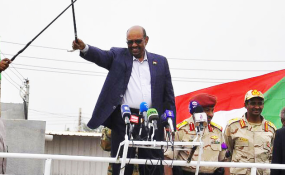 Photo: Radio Dabanga
Nyala — The President of the Republic, Field Marshal, Omer al- Bashir has arrived Nyala the Capital of South Darfur state in a three days official visit.
In his tour in the Darfur state, and following his visit to the state of West Darfru, the President has arrived Nyala airport, and was received by the state's Wali (governor), Adam al-Faki , the members of his government, the political, legislative, and executive, and the civil administration leaderships.
The President's visit program includes the inauguration of number of services and development projects, and the address to the mass rallies in Nyala, Gherida, Shataia, and the camp of the displaced persons in Kalama.