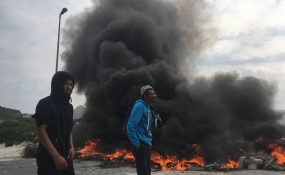 Photo: Kimon de Greef/GroundUp
A group of Hout Bay fishermen pleaded with residents of the town on Thursday to join them in their challenge to the government to get their fishing rights back.
"If you want to help us, don't be scared," said Neil Williams to about 100 protesters who met at the harbour at sunset for a peaceful protest and to explain their issues to a community shocked by the violent clashes with police last week.
"Don't be afraid Hout Bay people. You must connect."
Still fresh in the community's minds was the uprising over a number of issues that had bubbled to the surface - primarily over fishing rights they not only consider as part of their culture and tradition, but as a means of supporting themselves.
Last week, tables were dragged from the popular Mariner's Wharf restaurant and set alight to form a burning barricade and 14-year-old Ona Dubula was severely injured when struck in the mouth by a rubber bullet as police tried to quell the protest.
Standing on a stage made of old pallets on Thursday afternoon, activist Donovan Van der Heyden explained that not only had they been marginalised by apartheid, but their traditional fishing areas had been demarcated into a Marine protected area, a closed area, and a no-take zone.
Recreational permit
This means that there is nowhere for the local community of Hangberg and nearby Imizamo Yethu to fish legally.
"So what has happened to the poor fisherfolk of Hout Bay is that the department (of Agriculture, Forestry and Fisheries), conservationists, scientists and whoever has that authority, has thrown every possible restriction, limitation, every possible judgment and prejudice at us not to be able to practice our culture and our tradition here at home," he said.
"If we want to fish, unfortunately, we have to fish illegally because even if you buy yourself a recreational permit, you can still get arrested or fined if you are found fishing around Hout Bay."
"So how then are we supposed to survive?"
Turned into "poachers" in the eyes of the authorities, many fishermen who chanced it at night in rowing boats at nearby Duikersklip, drowned, further devastating the community.
With a small police contingent parked at a distance, he read a statement of solidarity on behalf of the fishing community of Hout Bay and of Imizamo Yethu.
The fishing community wants unrestricted access to what they consider to be their traditional fishing grounds in Duikersklip and in the marine protected area.
Restricted area
They also want delays with the implementation of the small-scale fishing policy to stop and for the Minister of the Department of Agriculture, Forestry and Fisheries, Senzeni Zokwana, to commit to a date to meet the community.
On Sunday, Zokwana met at Parliament with a limited delegation.Van der Heyde said the community called for the marine protected area, restricted areas, and no-take zones to be reviewed with the full participation of the community.
And, when the Hout Bay Harbour upgrades start, all of the work must be awarded to local residents. If special skills are needed, outsiders can only be used if training cannot be provided to the local community.
Other activists at the meeting said the community was poor and was tired of working for years as general workers or at fish factories for low pay and having nothing to show for it.
On Friday morning, they intend marching to the fisheries office on Cape Town's Foreshore to hand over a memorandum containing their demands.
Source: News24