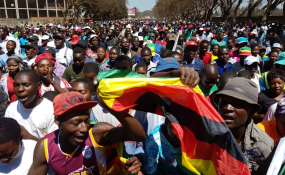 Photo: Povo Zimbabwe/Twitter
By Marcus Mushonga
Harare — Supporters of President Robert Mugabe and Zanu-PF are accused of brutalising disabled opposition followers ahead of elections scheduled for next year. Disabled people that choose to support the opposition are at risk of political violence such as harassment, sexual assault, physical assault, intimidation, physical and emotional torture, malicious injury to property, abduction and arson.
Human rights organisations said research indicated the campaign to solicit votes from the disabled was rife in the Mudzi, Murewa and Mutoko areas in the Mashonaland East Province. Youth members and some war veterans still loyal to the party are accused of unleashing the violence supported by the state apparatus such as the police, state security agents and the army. "This creates a highly poisoned political environment in which, like any other citizens, people with disabilities fear for their lives if they were to take an active role in politics," said the Zimbabwe Peace Project.
The organisation said the disabled shied away from participating in pre-election processes as they consider themselves as defenceless and highly vulnerable. "Society is generally unwilling to vote for the disabled, whom they always look down upon as sick people." Interparty and intraparty violence and hate speech have gripped Zimbabwe in the run-up to the polls that will see Mugabe (93) seek re-election. He has been in power since 1980 but is accused of rigging and violence to maintain his position.