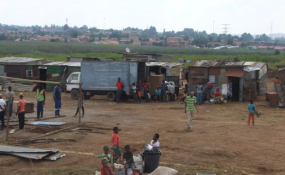 Photo: SDI South African Alliance
analysis
By Bheki C. Simelane
Sparks sits in his shack in an informal settlement in Kliptown smoking a pipe with his friends. Just above his head a tangle of wires snakes out of the shack in all directions, a veritable distribution board supplying power to hundreds of residents of one of Johannesburg's oldest townships. His connections are illegal but it's the only way residents here can access electricity. By BHEKI C SIMELANE.
To residents of the informal settlement, Sparks - a nickname given to him by the community - is a hero. For nearly a decade, the 24-year-old school drop-out, has shimmied up and down electricity poles of Eskom and Passenger Rail Agency of South Africa (Prasa) providing shack dwellers with power where Eskom has failed to do so. He is the reason many children in the settlement can have a hot cup of tea before heading to school. And why in the winter, they are able to keep warm, despite their empty bellies.
Sparks, who has so far evaded arrest, has no formal training and has never worked for Eskom, learnt the "trade" by watching and helping others who steal electricity. "This is not solely just about providing electricity for my community, I'm actually...