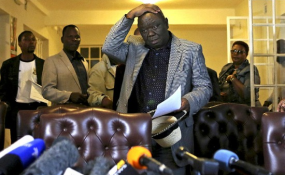 Photo: New Zimbabwe
High Court judge Justice Davison Foroma has dismissed an urgent chamber application by the MDC-T seeking the reversal of the voter registration proclamation dates by President Robert Mugabe.
President Mugabe, two weeks ago, declared that voter registration should start on the 14th of September and end on 15th January next year.
Mugabe said after the 120 day voter registration deadline he would then pronounce the election date.
Emerging from justice Foroma's chambers where the case was held in privacy, Tsvangirai's lawyer advocate Eric Matinenga said his client lost the case.
"The court's view is that this is a matter which should not be held urgently because of the reasons that the judge gave and on that account he was not prepared to hear the matter on the merit," he said.
"The point I sought to make was that this application debunks the fraud; opposition political parties who want things done properly, who want proper election processes, and if you look at the correspondence between ZEC and the various political parties-and I mean all the major political parties- were complaining against the same issues including Zanu PF .
"So my point was we are not prejudicing the MDC or any of the political parties on their own, but we are prejudicing all the people of Zimbabwe by embarking on a process which may be impeached," said Matinenga.
MDC-T was argued that Mugabe should not have proclaimed voter registration dates before the Zimbabwe Electoral Commission (ZEC) procures enough Biometric-metric Voters Registration servers which store data.
The party's secretary general Douglas Mwonzora told New Zimbabwe in Harare Tuesday that ZEC and opposition political parties have not yet agreed on voter registration centers.
The opposition said they have discovered that thousands of potential voters were yet to get identity documentation (IDs).
The Registrar General's office has just started issuing out IDs to citizens using mobile registration centers throughout the country and there are reports that communities are failing to access the services because of exorbitant fees charged by Tobaiwa Mudede's officials.