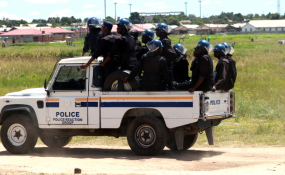 Photo: The Standard
By Munyaradzi Huni
Zimbabwe scored big at the United Nations after one of its police officers, Assistant Inspector Annah Chota, won the prestigious International Female Police Peacekeeper Award for her service in the United Nations Interim Security Force for Abyei, in Sudan.
She was given the award last Monday at the International Women and Law Enforcement Conference in Cairns, Australia. Asst Insp Chota is the first police officer from Zimbabwe to receive the award which recognises the outstanding accomplishments of female police officers serving the United Nations. The award was launched in 2011.
"As head of the Gender and Children Affairs unit in the police component of UNISFA, Ms Chota helped establish a women's network in Abyei. Through training workshops and campaigns with local communities, Ms Chota contributed to a shift in how communities deal with rape, domestic violence, child marriages and forced marriages, by recognising rape of a wife by a husband as an offence.
"As a result, more women are reporting gender-based violence and in the absence of a police service in Abyei, community protection committees can now record and recognise sexual and gender-based crimes," said the office of the spokesperson for the UN Secretary-General.
After receiving the award, Asst Insp Chota said the award underscored "the value of hard work, professionalism, teamwork and discipline, which every peacekeeper must exhibit". United Nations Police Adviser Police Commissioner Stefan Feller praised Asst Insp Chota's efforts to promote community-oriented policing in Abyei.
"Assistant Inspector of Police Annah Chota made a key contribution towards restoring trust of the public in the police and encouraging children, women and men in Abyei to become partners in preventing and detecting crime," he said.
Reports show that Zimbabwe provides 85 police officers to UN operations in South Sudan, Sudan, and Abyei and Guinea Bissau of whom 31 percent are women.