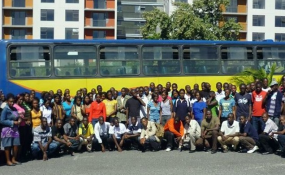 Photo: CPUT Zim-forum
Students who were offered scholarships to study in Russia under the Presidential Scholarship and National Scholarships Programme are expected to meet the executive director Dr Christopher Mushohwe today at the New Ambassador Hotel.
Dr Mushohwe, who is also the Minister of Information, Media and Broadcasting Services said the students should come with their parents and their documents.
"We wish to inform all students offered scholarships to study in Russia to come with their parents to meet the executive director today (Friday) at the Ambassador Hotel," said Dr Mushohwe in a statement.
"They must bring their passports with study visas and medical reports. Be advised that the date of departure for Russia is Tuesday, September 26. Students who fail to submit passports and medical reports today will be deemed to have declined the scholarship offer."
The students would be the second batch to leave the country after 30 others left for China to study in Qindao Province at the end of August .
Since its inception, the programme has seen more than 20 000 students benefiting, with some now working in different professions locally and overseas.
The Presidential Scholarship Programme, which until now was restricted to Fort Hare and 15 other South African universities, has now spread to China after Chinese company, Qingdao Hengshen offered 50 scholarships to Zimbabwean students.