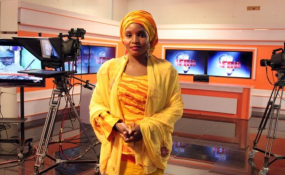 Photo: ThisisAfrica
By Kylie Kiunguyu
Amina Yuguda, a journalist from northern Nigeria is the winner of the BBC World News Komla Dumor Award 2017. "When I got the call it was at work, my life changed from that point," Yuguda said.
Amina Yuguda a journalist from north-eastern Nigeria and a news presenter on local network Gotel Television, is the third recipient of the BBC World News Komla Dumor Award. She is known for reporting on high-profile news stories, including the Boko Haram insurgency. She impressed the panel with her story-telling and her ability to convey complex ideas in a way that resonates with a wide audience.
Yuguda will start a three-month placement at the BBC in London in September. She told the BBC that the award was a "huge honour". "I was overwhelmed with joy. Storytellers have always had an important role in Africa... this is what defines us. Today journalists are taking on that responsibility," she said.
She is excited to work at the BBC, given her understanding of the corporation's impact among pastoralists in her hometown. In her application she said: "With little or no formal education, my countrymen can hold their own in a variety of topics, including the Trump presidency in America, North Korea's defiance, Russia's foreign relations under Putin, and more."
BBC World Service Group Director Francesca Unsworth said Yuguda was a worthy winner. "To find someone who possesses many of Komla's qualities is something for us to celebrate, and we are very excited about working with Amina," Unsworth said.
The award was established to honour Komla Dumor, an exceptional Ghanaian broadcaster and presenter for BBC World News, who died suddenly aged 41 in 2014.
Journalists from across the continent can apply for the award, which aims to uncover and promote fresh talent from Africa. The award is given to outstanding individuals living and working in Africa, who combine strong journalism skills, on-air flair, and an exceptional talent in telling African stories with the ambition and potential to become a star of the future.
The winner whose application is considered by an expert panel spends three months at the BBC headquarters in London. It is an opportunity to gain skills and experience.
The recipient work with teams from across BBC News, to produce an African story for the BBC. It is an opportunity to have their story and voice shared across the continent and the world. The winner is also supported by a high-level BBC mentor and attend courses run by the BBCs world-class training department, the BBC Academy. To top it off, the winner receives 2,000 per month for the three month placement to cover their living expenses and a one-off payment of 5,000 as a contribution towards loss of salary in their home country.
Commenting on the award, Khadija Patel, editor-in-chief of South Africa's Mail & Guardian newspaper said "Komla Dumor's work touched so many of us. He was loved by those who knew him, but he was also respected by so many more. His work remains testimony to the strength of African journalism and I'm delighted to be able to honour his memory."
Previous winners of the Komla Dumor Award are Ugandan news anchor Nancy Kacungira and Nigerian business journalist Didi Akinyelure.