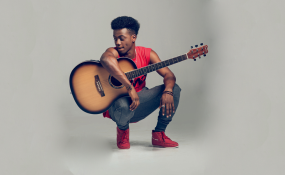 Photo: Korede Bello/Facebook
By Richard P. Ngbokai
Kano — A renowned Kannywood movie producer and director, Falalu Dorayi, has expressed reservations over the conferment of chieftaincy title of ''Sarkin waka'' on southern musician Korede Bello by the Kano state emirate council.
Korede was conferred with the title in recognition to his contribution to the society through music.
Dorayi who took to the instagram to express his opinion about the development said there are many indigenous Hausa singers in Kano who deserve the title instead.
He described the action of the emirate council as demoralizing to northern youth emphasizing that ''no matter how bad indigenous Hausa singers are, it is not fair to cross over to Lagos to pick Sarkin wakan Kano.
He said though the award of the title has not been made official, ''It is not surprising, because northern elites have been like that, they look for us only when they are in need afterwards they short change us for Lagos chaps. All sleepless nights our musicians have been having to bring our traditional leaders and northern politicians to the limelight all they get in return was to have the title shipped to Lagos'' he lamented.
Speaking further in a telephone chat with our reporter Dorayi noted that since the current emir of Kano Mohammad Sanusi II ascended throne, Nazir Ahmad has never ceased from praising him in his songs and thus deserved the title.
''In fact, before Sanusi became the emir of Kano, Nazir had envisaged and fore told in his songs of Sanusi becoming Sarkin Kano and it came to pass. I am of the opinion that if justice should be done none deserves this title but Nazir Ahmad'' he added.
He advised the northern elite to cherish their cultural heritage saying it is the only way Hausa culture could gain respect in the eyes of the world.
Korede is a Nigerian singer and song writer currently signed to Mavin Records. He is best known for his hit single ''Godwin'' a semi-gospel and pop song which topped many music charts in the country.
He was born in Lagos where he had his primary and secondary school education. He started performing at the age of 7 and went by the stage name African Prince. While in primary school, Korede Bello went on to write his first song after forming a music group with a friend.