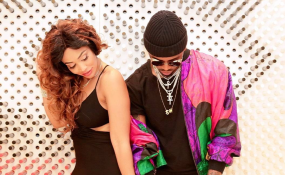 Photo: Diamond Platinumz/Instagram
By Naira Habib
Singer Akothee has lectured Tanzanian model Hamisa Mobetto for publicly revealing pictures and videos of her intimate moments with singer Diamond Platinumz, terming it as foolish
In a lengthy Facebook post the singer accused Hamisa of having malicious intentions of hurting Diamond's family.
"But why would I take photos of someone I have just stolen for a sex moment if am not a malicious person, I think I can forgive my baby if he is caught in this scenario, why are girls not intelligent," Akothee wrote.
Akothee also schooled the Tanzanian model on why she should have maintained her silence while eating her piece of the pie.
FREE ADVICE
"If you succeeded & amp; convinced him to bed, then trust me, you can still manipulate his finances without interfering with his family if you have some brains, so you be his Panadol when his main chick is on fire, mbona hamjui kula na vipofu nyie, mbona mashot cut za kijinga ?" she posed.
The Uko Moyoni hit maker also offered her free advice to such kind of women to think beyond only satisfying a man in the bedroom, for that does not last forever.
Game yenu iko chini kama kiatu , a man won't be horny forever, and sex won't keep a man, its beyond bed haloooo. Goodnight take evidence of sex, who doesn't know what happens when opposite sex are in bed? What are you keeping evidence for? How is hurting his family satisfying your malicious behavior, it shows clearly you don't even love or want this man , you want this family broken and that's your mission."