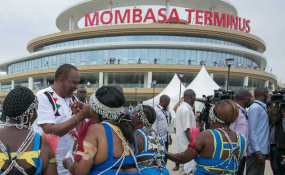 Photo: PSCU
By Bonface Otieno
Passengers travelling on the Standard Gauge Rail (SGR) train between Nairobi to Mombasa will from Saturday book, cancel and pay for their tickets through their mobile phones following introduction of a SMS-based payment platform.
Kenya Railways is hoping the move will tackle middlemen cashing in on selling tickets at higher prices by allowing passengers to purchase them directly.
Commuters can now dial the code *639# and follow a series of prompts that will enable them buy tickets to the Mombasa, Nairobi, Voi and Mtito Andei passenger destinations.
"We are seeking to leverage the technology offered by the new platform to counter the secondary market of tickets by middlemen who have taken advantage of the use of the stations as the main source of tickets," said Kenya Railways (KR) Managing Director Atanas Maina yesterday.
The SMS-based USSD code will also enable passengers to immediately make payments via MPESA to secure their tickets.
"Through the platform, we hope to make it more convenient for Kenyans seeking to travel to plan their journey in advance and make bookings on time. The system will also require those making bookings to provide their names and national identity card number except for minors."
Multiple bookings
The new platform will allow passengers to make up to five bookings at a go and secure tickets up to seven days in advance.
Once the booking is done, they will receive a confirmation SMS with a special reference number indicating their destination, time and date of travel as well as the number of passengers reflected on the booking.
Commuters will then be required to print their tickets from the service booths at the station upon arrival and produce their National ID cards while checking in to verify their identity.
Mr Maina said development of an online booking portal to allow online payments is at trial stage and will be launched in the coming weeks.
He also said that Kenya Railways has reached a deal with Safaricom #ticker:SCOM for nine M-Pesa pay bill numbers to allow travellers buy tickets from their mobile phones.
Middlemen have been a thorn in the side of the rail services provider since the launch of SGR trains as they buy out tickets at normal price of Sh700 and re-sell at sh3,000, thereby creating artificial shortages and inconveniencing commuters.