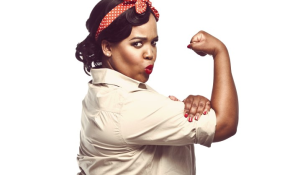 Photo: Tumi Morake
People who tuned in to Jacaranda FM on Friday hoping to hear a spot of anti-white banter from Tumi Morake would have spent the morning listening to South African pop songs, and a live studio performance by an Afrikaans singer who makes his own koeksisters.
Brenda Fassie, Sipho "Hotstix" Mabuse and Mango Groove kicked off the Heritage Day long weekend following a week during which Morake and co-host Martin Bester were the subjects of a "boycott Jacaranda FM" campaign.
Morake was targeted by angry listeners after she compared apartheid to a bully taking a child's bicycle, and then the child being made to share the bicycle, during a discussion on performer and activist Steve Hofmeyr.
She made the comments during a debate about Hofmeyr being taken off the bill of an "Afrikaans is Lekker" show in New Zealand.
The show tours Australia and New Zealand and is a favourite among many Afrikaans expatriates there.
He also controversially sings Die Stem - the apartheid-era national anthem - at his shows.
Some listeners of the radio station, whose content is usually upbeat and light-hearted, felt that they were being accused of being the cause of everything that is wrong in SA; that they were being unfairly blamed for apartheid and that their own heritage and history were being unjustly criminalised.
Morake praised
Trade union Solidarity took on the matter, demanding an apology from Morake, saying she had "lanced a boil" and invited people who felt aggrieved by her comments to join their complaint to the South African Human Rights Commission.
The complaint alleges that there are double standards in dealing with racism in SA in that white people accused of racism face the full wrath of the law, while black people who make racist remarks are treated gently.
Jacaranda FM and Kagiso Media, which owns the station, said they supported Morake.
"On the eve of Heritage Day, we call on all South Africans to engage in open dialogue on these important subjects and to not stand for aggression, racism and victimisation toward those that offer differing viewpoints," said Jacaranda FM in a statement.
Kagiso Media praised Morake for "expressing a legitimate point of view on the impact and result of apartheid".
"[Morake had] the willingness to engage and listen to contrary views. She does this despite criticism, intimidation and threats from some parties in our society," said CEO Mark Harris.
The Boikot Jacaranda 94.2 FM/Boycott Jacaranda 94.2 FM page on Facebook, with almost 38 000 followers by Friday morning, fumed over Kagiso Media's statement and started suggesting a boycott of some of the show's sponsors.
Morake's Twitter followers have expressed their support for her.
Second meeting planned
Solidarity's head researcher Connie Mulder told News24 that he and Solidarity CEO Dirk Hermann had a meeting with Morake and Bester on Thursday where they "agreed to disagree" for now.
Jacaranda FM would also set up a date and time for the parties to sit together and talk it out again.
Mulder said many of Solidarity's supporters felt that the national narrative for 2017 has been to blame white people for the country's ills.
"Tumi became the flashpoint," he said.
But back on the show, Morake hummed along to Afrikaans songs, which included a live performance of Jakkie Louw's My Tipe Party (My type of party) , whose chorus Morake joined.
"Tumi kan langarm (an Afrikaner traditional dance)," quipped Bester as the show wrapped up with the presenters eating Louw's home made koeksisters.
"It was like a spiritual experience. I took a quiet moment with this koeksister," said Morake.
Source: News24