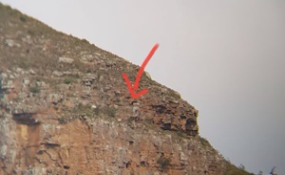 Photo: Wilderness Search and Rescue
A dog who found itself stuck on a mountain ledge in the Stellenbosch area has a farm resident to thank for its rescue after she heard cries for help and ensured that a rescue team was able to find it.
Just like the rock hyrax that likes scrambling around outcroppings of rock, the team thought it fitting to honour him with the name "Dassie".
Rita Trafford, who lives with her family on the De Trafford Estate, told News24 on Friday that she had heard the dog's intermittent barking and whining for a few days.
She decided to scan the Helderberg Mountain range with binoculars on Thursday.
After 20 minutes, she spotted what looked like a light-coloured Labrador above a cliff face.
"I thought I was seeing things. I bumbled around and tried to get hold of people who could help."
After making some calls, a rescue team including canine unit officials, a paramedic and members of Wilderness Search and Rescue was assembled.
Difficulty finding Dassie
She took a photo through her binoculars and added a red arrow to show the exact spot the dog was on the mountain.
The rescue team's concern was that the dog may have been with a potentially injured hiker.
They ascended the relatively steep section of the mountain but could not find the pooch.
The team used ropes to manoeuvre up and down the cliff face, and along the ledges. They searched every possible hiding spot but did not find the dog.
"I couldn't believe it," said Trafford, adding that the team then made plans to return the next day to carry on.
"I knew what was going to happen. As soon as they leave, the dog is going to pop back up. And it did."
The team was heading back to the holding point when the dog was spotted again.
Rescuers had to spend time earning its trust because it was scared.
Fitted into a harness, the dog was soon carried down the mountain, checked by a vet and handed over to the Animal Welfare Society Stellenbosch (AWSS).
'Great family dog'
The Labrador cross was not chipped or sterilised, AWSS spokesperson Jessica Perrins said.
He had been covered in ticks but was otherwise in good health.
"He is so gentle and loves his food. He would make a great family dog," she said.
The male dog has not yet been claimed. The welfare society would wait for 10 days for Dassie's owner to claim it before putting it up for adoption, she said.
Trafford visited the dog at the shelter on Friday afternoon. A lot of happy tears were shed.
"He is smallish and quite a young boy, probably under a year," she said.
"It looks like he has been on the road for quite some time as his pads are worn and his nails are short."
Asked if she would adopt the dog if his owner did not claim it, she sighed.
"We would love to but our house already has four pooches. We are going to be visiting him lots."
She thanked all those involved in the rescue for their help and quick response.
News24