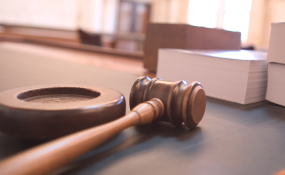 Photo: Joe Gratz/Flickr
A Ugandan court official has reportedly been suspended for wearing "a very short and tight dress" to work, breaching the country's strict dress code for public sector workers.
In a letter posted on social media, Namuwanga Rosemary was suspended for two weeks after she allegedly turned up at the Permanent Secretary or Secretary to the Judiciary's office dressed "in a manner that does not portray a good image of the Judiciary and Public Services at large".
The letter added that Namuwanga had gone to the office on Thursday, to follow up on her delayed pay, when she was deemed to have dressed inappropriately.
In July, the country's public service permanent secretary Catherine Bitarakwate Musingwiire announced that non uniformed public servants were banned "from wearing sleeveless, transparent and tight clothing at work".
Musingwiire said at the time that female public servants would not be allowed to wear any tight-fitting clothing, flat and open shoes, except in cases where one could prove that it was for medical reasons.
Accessories should be modest and women should not have bright hair colour, braids or extensions, Musingwiire was quoted as saying.
News24