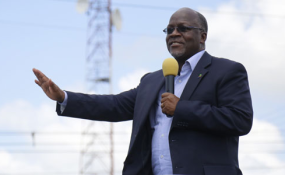 Photo: The Citizen
By Marc Nkwame
Arusha — PRESIDENT John Magufuli is expected to address Tanzanians from Arusha, this Saturday afternoon, shortly after commissioning Tanzania People's Defence Forces (TPDF) officer cadets, here.
"The Head of State is going to grace two events from the Sheikh Amri Abeid Stadium this Saturday; Dr Magufuli in his position as the Commander-in-Chief of the armed forces, will head the commissioning ceremony of officer cadets from 7am in the morning up to 4.30pm later in the afternoon," stated the Regional Commissioner (RC), Mr Mrisho Gambo.
The Commandant at the Tanzania Military Academy (TMA), which is based in Monduli, Major General Paul Peter Massao, said that the Head of State will also award a number of best performing officers during the pass out parade for officer cadets 'Intake 61/16,' which for the first time in history is being staged in Arusha City.
For many years since the establishment of the Tanzania Military Academy, the officer cadets' commissioning ceremonies have always been held at the TMA base in Monduli, though recently the Head of State graced the occasion at State House in Dar es Salaam.
This time, residents of Arusha City are thus getting the opportunity to witness the rather exciting parade of colours. Normally, the Head of State after commissioning the cadets gets to take official photographs with the graduands as well as other military officers.
It is after the parades march out of the Stadium that members of the public will get the opportunity to hear from President Magufuli who jetted here last Wednesday, where he inaugurated the road linking Mirerani mining hills and Kilimanjaro International Airport (KIA).
This weekend's army commissioning exercise as well as the public address to the nation will climax President Magufuli's tour of Arusha, though the Head of State is likely to return at the end of this month to inaugurate the East African Community (EAC)'s One-Stop-Border Post Facility at Namanga.