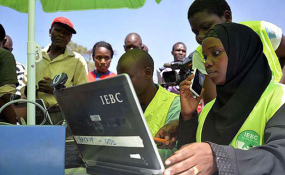 Photo: The Nation Media Group
By Fred Oluoch
Kenya's opposition National Super Alliance (Nasa) coalition has prepared cases against 60 staff of the electoral commission over the August 8 presidential election whose result was annulled by the Supreme Court.
The EastAfrican established that Nasa is waiting for the Director of Public Prosecution, Keriako Tobiko, to take action against the individuals suspected to have bungled the election, but Nasa is prepared to initiate private criminal prosecution should he fail to.
In presenting the full ruling on Thursday last week, Chief Justice David Maraga said the court could not assign any criminal culpability on any individual.
Paul Mwangi, Nasa presidential candidate Raila Odinga's lawyer told The EastAfrican that private prosecution will go on as stated by the Nasa principals.
John Onyando, a member of Nasa's media team, said the court was not expected to name the individuals responsible for bungling the elections because it was presiding over a civil matter.
"Once the Supreme Court decided that there were illegalities and irregularities, the only thing remaining is to find out who committed them and whether they did so with criminal intentions," said Mr Onyando.
Among those targeted for private prosecution are IEBC chairman Wafula Chebukati, commission-secretary Ezra Chiloba, several individuals working in the ICT department and some returning officers.
According to the judgement by a majority of four out of two Supreme Court judges, the IEBC chairman announced the presidential results on August 11, while 11,000 forms 34 (containing the votes cast at polling centres) were missing.
The judges said the chairman failed to offer any plausible response to the question on whether all Forms 34A had been electronically transmitted to the national tallying centre as required by Section 39 (1C) of the Elections Act.
Denied access
The judges also ruled that the electoral commission failed to grant access to two critical areas of their servers -- its logs, which would have proven or disproved the petitioners' claim of hacking, and its servers that contained Forms 34A and 34B.
"IEBC's disobedience of the court's order left the judges with no option but to accept Raila Odinga's claims that either the commission's IT system was infiltrated and data doctored or IEBC's officials themselves interfered with the data," read the judgment.
The judges, however, noted a systemic institutional problem but could not point to specific individuals who may have played a role in the mess.
Mr Odinga, who filed a petition against the re-election of the incumbent President Uhuru Kenyatta claimed that various electoral offences were committed by IEBC officials but no evidence was placed before the court to prove the allegations.
Private prosecution
The Kenyan Constitution allows citizens who feel that the state is not willing to take up their case to present evidence before a court, which can allow private prosecution to proceed.
Mr Tobiko had said that he was waiting for the comprehensive ruling before starting the process of prosecuting those who would be found culpable within IEBC.