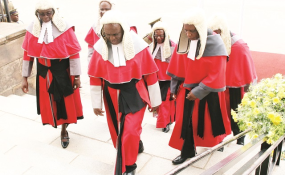 Photo: The Herald
ZANU PF MP Daniel Mackenzie has dared government to do away with the judges' regalia describing them as an embarrassing attachment to remnants of colonialism.
He was speaking during a Tuesday parliament session.
Mackenzie attracted unsolicited comments and support from opposition legislators after he said judges' wigs were no longer appropriate in an independent Zimbabwe.
"Are these not old and uncomfortable and colonial remnants? Why are our judges being subjected to those? I suggest a competition so we come up with new regalia for our judges," he said to the applause of the house.
Opposition MPs including Binga North representative Prince Dubeko Sibanda could be heard shouting that the horsehair locked wigs elimination competition should include the Rolls Royce paraded by President Mugabe during the opening of parliament.
Zimbabwe, together with fellow African countries once colonized by Britain such as Malawi, Kenya and Ghana, have kept the colonial dress code which also include a red robe, despite decades of enjoying independence from British rule.
This is despite the fact that British barristers have since stopped donning them.
Arnold Tsunga, the director of the Africa program at the International Commission of Jurists, was quoted recently in the Washington Post saying, "The colonial system used law as an instrument of repression, and we're still maintaining this tradition without questioning it. It's a disgrace to the modern courts of Africa."
Although there have been efforts to replace the regalia in Kenya, the move was met with dismay by the practitioners who associate the dress code with influence than colonial legacy.