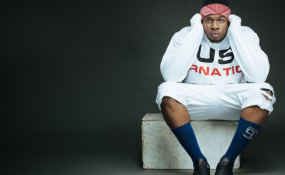 Photo: Runtown/Instagram
By Moses Opobo
It was the first time Runtown was performing in the country and when he took to the stage at 11:30 pm, it was clear that he wanted to leave an impression.
Sheebah Karungi, the night's other headline act was on her usual mission -to make people dance. The Nkwatako singer really danced her way into the hearts of her growing Kigali fan base.
The show's organizers, I Factory Africa had promised to stage "something Kigalians had never seen before", the reason they chose to call it an experience, not concert.
I Factory Africa is an Events and Artist Management company based in Kampala, Uganda, and this was their first event in Rwanda.
The show had more than its fair share of upcoming musical acts from Uganda, on a night when organizers had promised to give upcoming Rwandan artistes a chance to share the stage with Runtown and Sheebah.
Emprah Jahboy was among the local upcoming acts that curtain raised.
Organisers had promised a fully live concert but CD playback was the order of the day until 10:00 pm when the duo of Charly and Nina took to the stage belting out their latest hit, Zahabu which was warmly received.
Bruce Melodie was the last local act on stage before the repeated calls of "Are you ready for Sheebaahhh ...!!" from the night's MCs got the crowds screaming excitedly.
Flanked by her raunchy queen dancers, Sheebah burst onto stage singing and dancing to Go down low.
Full of energy and dressed in a swimsuit that left nothing to imagination, Sheebah was out on a mission to prove why she is East Africa's queen of dancehall.
"Kigali, are you ready? Are you ready? Showtime!", she declared after her opening song, before launching into a high energy performance of songs like Mbakwekule, Ice Cream, Akuse, and her latest hit, John Rambo.
She was joined on stage by Chosen, another Ugandan artiste with whom they performed their collabo, Wadawa.
Sheebah wrapped her performance with Binkolera, her collabo with The Ben, and her signature hit, Farmer.
The only downside to her performance is that she did CD playback.
Runtown came on stage at 11:30 pm and it was soon clear that he, too, would not be putting up a fully live show.
He had to rely more on his DJ than the two guitarists on his stage. He went through some of his hits like Bend down pause, The banger, Omalicha nwa, and For life, whose lyrics the crowd was well familiar with.
Then he invited Sheebah back on stage for their collabo titled Weekend. He also invited girls on stage to compete in dance on Bend down pause, the lucky winner walking away with the Nigerian's cash worth $1,000.
Attendance was lukewarm at worst, and average at best. For people that didn't know Runtown already, the tagline "Runtown Experience Kigali" sounded a little alien in their ears, with many asking "who is Runtown Experience"?
The singer concluded his performance with the hit Mad over you.
"This is not what I expected. First of all the sound was not very good and the performers didn't strive to put up live performances," said Martin Ngabonziza, a reveller.
It was just another music concert in Kigali featuring foreign headline acts and not 'something Kigalians have never seen before' as the organisers had promised.
The highlight of the night was Rwandan group Active promising to sue the organisers for refusing to pay them because they didn't perform yet it was the organisers fault. Several performers were scrapped off the list in order for the show to end by midnight.