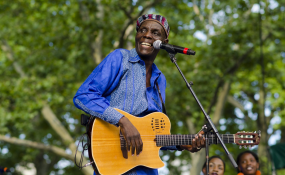 Photo: GuguLethu
By Tafadzwa Zimoyo
They say wine matures with age. This is now the case with Oliver Mtukudzi. Over the weekend, the multi-award winning musician hosted his 65th birthday celebrations at Pakare Paye, Norton which lived up to its billing.
The "birthday boy" took to the stage in the wee hours and somehow had a little sound malfunction. This happened when he sang, "Hear Me Lord", but the hiccup was rectified after a few minutes. He then put up a top drawer performance as he dished out some of his hits. He later thanked his fans for coming and all the birthday wishes.
"Thank you so much and I am happy about this," he said. The event saw Zambian pop outfit "Amayenge" performing before Jah Prayzah took to the stage. Jah Prayzah performed songs like "Goto" and "Watora Mari" with Andy Muridzo filling the gap of Tanzanian star Diamond Platinum. The "Mudhara Vachauya" hitmaker, then sang "Happy Birthday" song before being joined by Tuku.
Amayenge group later rekindled their romance with local fans when they performed the famous hit song, "Aphiri" which drove everyone into a frenzy.
The group, known for playing Kalindula, a fast and funky dance style based on the one stringed bass of the nation's Luapula region, displayed a scintillating and energetic performance as evidence by their dance moves. They performed songs such as, "Lelo Balesia", "Ma" and "Mao". In an interview, group manager Frazer Chilembo said they were excited to come and perform in Zimbabwe and was shocked how locals support music.
"This concert was good. One thing we can take home, is that Zimbabwean musicians are good when it comes to live band. Back home they are more of playing backtracks.
"We enjoyed very well. I am much surprised with how Zimbabweans support each other in the music sector. Many people have come and we received a great welcome," he said. Asked if they still have other projects on local ground, Chilembo said:"We are doing a song with the legendary icon Tuku, which is centred on child marriages.
"It is an issue which is affecting Africa and we plead with adults to give the girl child a chance to shine and right to education, rather than seeing them as wives. This will also be included in the song," he said. Chilembo said the Government should intervene on the issue of piracy because it is affecting the music industry.
Despite the event being hosted far from Harare, the celebrations saw people from all walks of life, thronging the event with tickets going for $5 and $10. The stage lighting and screen were on point, as expected for Tuku and the concert met international standards.