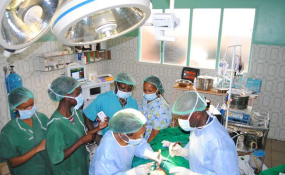 Photo: Nation
By Benson Amadala
A baby born at a hospital in Kakamega County with her brain outside the skull died 10 hours later, despite efforts save her life.
The mother, Ms Valerie Ochiri, was taken to the privately run St Paul's Dispensary in Emusonga by her husband Horace Odoyo Ogayo after she went into labour on Saturday night.
She gave birth shortly after arriving at the health facility. But her joy was cut short after nurses told her they had noticed something unusual about the newborn.
Mr Ogayo, a taxi driver in Kakamega, said: "My sister in-law called me shortly after the baby was born and sent me a horrifying photo of the baby's brain popping out of the skull. I was so shocked and did not know what to do."
NO SCANS
Further, nurses told him that the baby had to be rushed to the Moi Teaching and Referral Hospital in Eldoret.
A nurse said that although the woman had been attending ante-natal clinics, no scans were performed to establish the condition of the baby in the womb.
The county chief officer for health services, Dr Brenda Makokha, said the condition was a birth defect in which the brain grows outside the skull.
She added: "This is congenital malformation of the skull in newborn babies. It's not clear what causes the condition."
SECOND CASE
This is the second such case reported in the county this year after a woman in August gave birth to a baby at the St Mary's Mission Hospital in Mumias with a similar condition. That baby also died.
In the Saturday incident, the baby died 10 hours later as the family was trying to raise Sh4,500 to pay for an ambulance to Eldoret.
Mr Ogayo told the Nation by phone that he could not raise Sh9,000 for the ambulance and after pleading with the driver, he was asked to pay Sh4,500.
He was speaking from Kanyabala Ward in Homa Bay County where he travelled to bury the baby.
CRIPPLED SERVICES
The taxi driver said his wife could not be attended to at the Kakamega County Referral Hospital due the nurses' strike, which has crippled services in the hospital.
In the Mumias incident, a nurse, Ms Faustin Waswa, said the mother, aged 18, arrived at the hospital from Ingotse health centre in Navakholo, while in labour.
She said the patient was referred to the hospital after she experienced some difficulties after going into labour. When the baby was born, nurses noticed the deformity.
"The skull and eyes were missing. The lips were cleft while the legs were deformed," said Ms Waswa.
The nurse attributed some deformities to lack of folic acid which is administered to pregnant mothers during ante-natal clinics to aid in the formation of the vertebrae and bones during pregnancy.