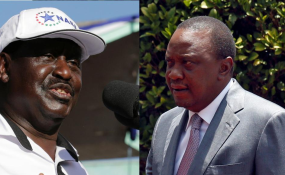 Photo: Le Pays
By Nelcon Odhiambo
Nasa leader Raila Odinga has maintained that President Kenyatta has no powers to conduct critical functions of the government.
He termed the President as "lame duck", arguing he is only holding the seat temporarily as enshrined in the Constitution.
Mr Odinga, who spoke in Siaya County at the weekend, said the President's legitimacy after the 60-day window for fresh presidential elections would cease, as he accused Attorney General Githu Muigai of misleading the country.
"At the moment, President Kenyatta is a caretaker president with no powers at all to govern this country, he lost his powers on August 8 when Kenyans went to the polls."
CEASE
"He will, however, cease to be President on November 1 when the 60 days elapse and elections are not conducted," said Mr Odinga.
Siaya Senator James Orengo accused the AG of attempting to create confusion.
After November 1, Mr Orengo said, President Kenyatta should pave the way for a transitional government that would be charged with the responsibility of arranging for a fresh presidential election.
He told the Attorney-General to stop reading only sections of the Constitution that suit Jubilee's stand but read it in totality.
CREDIBLE ELECTION
He asked Jubilee leaders to allow IEBC to provide Kenyans with a credible election to end the current stalemate.
"After the 60 days are over President Kenyatta will cease being the President of Kenya and turn into an ordinary citizen. The AG should stop misleading Kenyans on that," said Mr Orengo.
The leaders, who spoke in Bondo, were responding to the AG's assertion that President Kenyatta would continue serving as Head of State should the country not have fresh polls within 60 days as ordered by the Supreme Court.