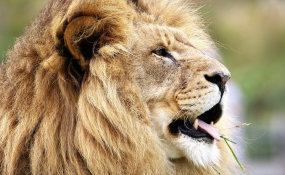 Photo: Pixabay
By Albertina Nakale
Windhoek — Following recent worrying incidents of human-lion conflict, the Ministry of Environment and Tourism (MET) and its partners launched a management plan to deal with such conflict in the northwestern parts of the country.
Lately, there have been a number of cases reported of communal farmers who gunned down lions from Etosha National Park for allegedly attacking and killing their livestock, particularly in Omusati Region.
In response, to the growing human-lion conflict in Kunene Region in 2016 at the peak of the worst drought in decades, the ministry decided to develop an area-specific human-lion conflict management plan to manage or reduce conflict.
Officially launching the North-West Human-Lion Conflict Management plan on Friday, Environment and Tourism Deputy Minister Tommy Nambahu said the presence of many species of large mammals, combined with settlement patterns of people, lead to conflict between people and wildlife.
Some of the proposed measures adopted by livestock farmers for herding and guarding their livestock include building and maintenance of lion-proof kraals, the development of early warning systems and scare tactics, as well as the creation of rapid response units to respond to conflict situations.
Lion tourism is one of the other measures in the plan that Nambahu mentioned to be used to raise funds to support community development and lion conservation in conflict areas.
The deputy director for wildlife monitoring and research in the MET, Kenneth /Uiseb, said protected areas alone were not sufficient for effectively protecting the lions, as they are found in increasing numbers outside formally protected areas, specifically in Kunene, where they conflict with local livelihood objectives.
"The lion population in northwest Namibia is currently stable and sustainable, but interventions are required now to deal with the human-lion conflict for us to secure a long-term future for the lions without negatively impacting on the lives of the local communities who share their land with the lions," /Uiseb explained.
Nambahu added that there were estimated to be over 120 lions in northwestern Namibia. He said the lions of the Kunene had recovered from the brink of extinction, when they were reduced to a few individuals to the current levels of over 120 cats.
He said most of the lions now range outside the formally protected areas of Skeleton Coast and Etosha National Park. Due to the climatic conditions, such as sporadic and variable rainfall, typical of arid systems, the Kunene lions have large home ranges compared to lions elsewhere and this often results in conflict with local farmers in search of suitable grazing for their livestock.
He reiterated that although they were occasionally involved in conflict with livestock farmers and cause economic and financial losses for the farmers, lions are vital to the growing tourism industry.