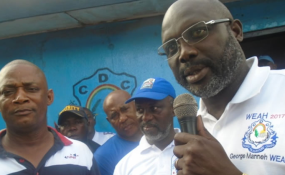 Photo: FrontPage Africa
The Standard Bearer of the Coalition for Democratic Change (CDC) has cautioned CDCians to refrain from acts that could provoke political violence during the ongoing campaign period in the country.
Addressing a news conference over the weekend, Ambassador George M. Weah said he is not in support of any act that has the propensity to undermine the peaceful conduct of the upcoming presidential and representative elections.
Weah also condemned recent ferocious clashes in Nimba and Montserrado Counties, involving individuals believed to be supporters of CDC, Liberty Party and Unity party.
Last week, supporters of CDC and Liberty Party clashed in Sanniquelle, Nimba County, thus leaving several partisans from both parties with bodily wounds.
According to report, the incident began when supporters of Liberty Party reportedly blocked the main road in Sanniquelle to prevent CDC campaign team that was heading for Yekepa from passing through, thereby resulting into the fracas.
However, the situation was later brought under control through the intervention of the Liberia National Police.
Two days later, another violence episode was reported in Pipeline Community, District #3 of Montserrado County involving 'supporters' of CDC and Unity Party.
Details of the incident remained scanty, but several persons were injured in the process.
Meanwhile, Senator Weah says a CDC-led government will uphold and implement the "One China Policy."
"My government will continue with the one China policy and even engage in policies that will further strengthen our relationship with China. The CDC will continue to uphold and implement the One China policy," Weah emphasized.
He maintained that Liberia under his leadership will not in any way or under any circumstance do business with Taiwan.