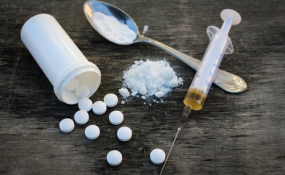 Photo: Daily News
By Ernest Kissiedu
President of the Pharmaceutical Society of Ghana (PSGH), Pharm. Benjamin Kwame Botwe has warned against the high proliferation and abuse of high dose tramadol on the market.
Tramadol is a narcotic-like pain reliever used to treat moderate to severe pain. Tramadol can slow or stop your breathing, and may be habit-forming.
According to him, the use of tramadol without prescription could lead to adverse effects, dependence and possible death.
"Tramadol is a prescription drug which must be prescribed by a doctor before use. The PSGH in collaboration with Food and Drugs Authority and Pharmacy Council have issued an alert for a brand of Tramadol of strength of 200mg and 250mg which is not registered in Ghana," the president revealed to the Business Day at the 2017 World Pharmacists Day launch in Accra.
In addition, Pharm. Kwame Botwe noted that the PSGH was aware of the recent media reportage on the unfortunate passing away of a 10-year old boy due to alleged adverse drug reaction or overdose.
"The PSGH calls for a thorough investigation and looks forward to the report. Findings of the report would inform the next steps of the Society in that regard.
"As friends of the human race, the PSGH assures the general public that we would continue to serve humanity with our knowledge and expertise in the responsible use of medicines."
An individual must not take tramadol if he or she has severe breathing problems, a blockage of the stomach or intestines, or if that individual has used alcohol, sedatives, tranquilizers and narcotic medication.
The misuse of the tramadol can cause addiction, overdose or death especially in a child or other person using the medicine without a prescription.
The Tramadol is not for use in children younger than 12 years old. Ultram ER should not be given to anyone younger than 18 years old.
Also, taking tramadol during pregnancy may cause life-threatening withdrawal symptoms in the new-born. Fatal side effects can occur if an individual uses tramadol with alcohol, or with other drugs that cause drowsiness or slow your breathing.
Meanwhile the launch of this year's World Pharmacists Day, which falls today, 25th September, was organized by Pharmaceutical giants Johnson & Johnson in collaboration with the PSGH and partnerships from the Ministry of Health and the Ghana Education Service.
The celebration themed, "From Research To Healthcare, Your Pharmacist Is At Your Service" is expected to provide the platform to sensitize the public about the importance of proper sanitation as well as how to control worm infestation in the society.
All over the country, pharmacists have earmarked a week to engage in various activities including public education in schools, communities, churches, mosques, among others, to provide education on the role of pharmacists and engage them on the responsible use of medicines, adherence ot counselling, and health promotion and contribute to public health.
For Pharm. Kwame Botwe, not only do pharmacists specialise in delivering drugs to patients, but their role in ensuring that the drug product is used appropriately cannot be over emphasized.
"In Ghana, pharmacy continues to be one profession that has contributed immensely to the social and economic wellbeing of the country.
"Pharmaceutical companies, local and foreign, continue to supply the essential healthcare commodities and medicines needs of the country to keep our public and private healthcare systems running," he opined.
The PSGH president observed that his outfit in partnership with Johnson & Johnson and GES is working together to fight against worm infestation among school children. This, he believes, is an indication of their continuous efforts at positioning the PSGH as a key partner in promoting good health in Ghana.
Pharm. Kwame Botwe urged everyone to demand to see the pharmacist anytime they visit a pharmacy.
Adding her voice, Country Manager for Johnson & Johnson, Priscilla Owusu-Sekyere said this year's theme resonates well with her company's credo as they always endeavour to invest in research and high-quality healthcare.
"Diseases from parasites and worm infestations such as guinea-worm, schistosomiasis and other neglected tropical diseases, impose a heavy burden on the population and healthcare services; as they affect a large number of people especially school children in Ghana.
"This has a serious impact on school attendance rates, childhood growth and cognitive development, leading to high levels of disability and loss of productivity," she asserted.
Ms Owusu-Sekyere expressed hope that worm infestation will quickly become a thing of the past.
"The worm infestation awareness campaign is very important to us as we consider it a means of contributing to the development of the human capital for our economic growth. If it is maintained, and with full support of various stakeholders; then we are likely to have more productive and industrialized healthy nation," the country director added.
As part of activities to commemorate the launch, Johnson & Johnson presented 3000 exercise books, 3,000 pencils and 14 Dust-Bins to the Lekma Cluster of Schools, Gornor, Teshie. There were also presentation of awards to students who participated in an arts exhibition competition.