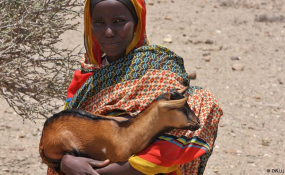 Photo: DW
By Homa Mulisa
Following the formation of a Preferential Trade Area (PTA) among some Eastern and Southern African countries including Ethiopia in 1981, the idea of economic integration was conceived in these regions. PTA's formation was aimed at establishing a Free Trade Agreement (FTA) in a very short time. Despite the promising start, its progress was sluggish due to a number of economic and political factors.
Later on, the Common Market for Eastern and Southern Africa (COMESA) was formed in 1994 to replace the PTA. Such free trade areas and coalitions, however important, can only be fully effective when they are supported by other bilateral agreements between countries of the regions. It is also incomplete, if the infrastructural links like transport and energy are not properly installed.
In this sense, Ethiopia has formed strong bilateral economic relationships with its neighbors such as South Sudan, Sudan and Kenya. Major avenues of regional cooperation include transportation corridors and energy projects worth millions of dollars.
International trade and infrastructural inter-connectivity among the nations of the Horn are helping to unleash the economic potentials of the nations in boosting trade and enhancing natural resource utilization, energy supplies and port facilities, said Dr. Mesfin Gebremichael, Assistant Professor at Addis Ababa University's Institute of Peace and Security Studies recently speaking to The Ethiopian Herald.
Regarding infrastructural links, the country has been hugely investing in and expanding maga infrastructures like the Grand Ethiopian Renaissance Dam to boost power generation and railway networks to access port facilities. Accordingly, Ethiopia has already begun supplying neighboring countries with energy from its hydro-power dams. The country is already generating some 4000 MW and hope to increase it to 10,000 MW once the ongoing projects are completed in the coming few years.
Export diversification is another important factor in intensifying economic integration in the region. Ethiopia's export is highly dependent on agricultural products, which keep the integration at bay for so long. Nevertheless, now things are changing as the region in general and Ethiopia in particular are becoming industrial hub. The country is now attracting huge number of foreign direct investment, as labor cost increases in most Asian countries.
Prime Minister Hailemariam Desalegn, who was on a three day state visit to Sudan recently, said the diverse climate of the Horn of Africa boost the opportunities of agricultural success and that there are chances to better the economic situation.
He said, "what is needed was an integration of the economies of these countries so that they together would be a force competing in the international market, stressing the importance of avoiding the existing high dependency on raw materials export only by putting an added value so that this would form an economic transformation in the Horn of Africa."
While infrastructural inter-connectivity and industrialization are the active cogs in regional economic integration, it is also highly affected by political stability. "Regional economic integration and peace and security are highly intertwined," noted Dr. Mesfin.
Despite all the progresses made so far, the Horn of Africa is yet to find a clear path to full economic integration. For a common market and a free trade area to function, its member countries at least need to be at peace. Hence, many would recommend that the wars and conflicts in some countries of this region which have devastated transport networks, communications and other basic infrastructure need to be peacefully resolved.
Moreover, as economic integration in this region so far was an issue of governments and governmental agencies only, ways must be found to involve the private sector in the integration process in the future. It should not be expected that all private sector actors will favor regional integration, as some might have fear of competitions as markets are shared among a number of states.
The participation of consumer groups and other NGOs should be encouraged as they can also gain from exploiting the opportunities for greater intra-regional trade. The Ethiopian government has taken the initiative of creating a public private partnership in an array of sectors and a legal framework is to be devised in the near future to support it.
Given the disparities in economic strength that exist between members of the existing common markets in the region, new policy instruments to deal with the fears of economic polarization must be found as well. In addition to policy frameworks, practical measures need to be taken that can actually showcase that economic interdependence is the order of the day, and nations should gear up to adhere to it as it is more than a matter of choice.