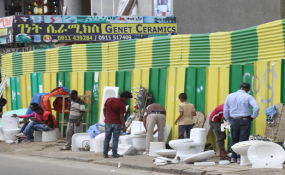 Photo: Addis Fortune
editorial
Recently, Ethiopian Chamber of Commerce and Sectorial Associations announced that it has been facilitating preconditions for the business community to take part and play its own role in solving social problems. The business community has also held discussions on the private sector's Social Responsibility Fund Draft Document.
The Social Responsibility Fund is in fact necessary to making the business community's participation in development, social services and other issues organized and sustainable so that it discharges its responsibilities effectively. It will enable private sector actors to play active role in reducing citizens' economic migration and social crisis as well as supporting innovation, green development and victims of man-made and natural disasters.
In fact, at the time when individuals through their own initiatives are taking social responsibilities to contribute something positive to the wellbeing of society, it is timely for corporations and the growing private sector to develop deep links between their business strategy and Corporate Social Responsibility (CSR) as success in business is highly linked with societal welfare.
Though there are initiatives by the business community, there seems to be lack of well planned CSR. Companies should go beyond being reactive to meeting the interests of the society. Instead, they should seek a proactive involvement in an organized manner. The establishment of the Social Responsibility Fund in this regard is a great step forward.
Corporate Social Responsibility can be expressed in various ways including through compliance with the law, ethical standards and societal norms. Though respecting these legal and ethical values by itself is a quality or expression of social responsibility for businesses, companies and businessmen can also go beyond compliance with such values. CSR can be economic, legal, ethical and philanthropic responsibilities and companies may adopt a policy of social responsibility by taking their and society's long term interests into consideration.
Of course, the major goal of any company is profit or sales maximization, unless there is another objective for which it is established, for instance charity. Every CEO or company manager always envisions and puts in place strategies with the view to maximize profit.
Some also closely associate the act of discharging CSR with the view to maximizing long term gains in terms of profit or something else. Yet, after all, no matter what the motives are, discharging CSR would have positive impact on all actors involved. At the end of the day, it will end up benefiting the community and the company alike.
Again, besides the profit interest, in developing countries like ours, companies should go beyond compliance with the law and contribute their share in speeding up or stimulating societal progress or solving societal problems. They can take part in promoting societal welfare through supporting or initiating various causes that would have positive impact on the common good.
There are several ways for companies to discharging their social responsibilities. Companies can work to reducing waste and pollution, expanding education, health, arts and sports. They can also work hard in line with corporate and profit goals while at the same time maximize social welfare. For instance, when they improve the quality of their products with maximum care and responsibility or create additional employment opportunities for communities, it will also improve their acceptance, market share and sales. Importer companies can also discharge their social and national responsibilities by importing quality products only, though sometimes importing low quality products might make them profitable in the short term at the cost of the national economy.
In recent times, there is a positive trend or CSR for instance among the growing beer industry. Back in the days, unlike in many countries, beer factories did not use to promote age restrictions in the consumption of their products in their advertisement campaigns. It is only recently that they started to do so, an expression of social responsibility by preventing young boys and girls from consuming alcohol.
While private sector and competition among its actors in booming, business are competing mercilessly for profit and market share. Developing sense of social responsibility is hence useful so that a competition based on ethical conduct and social responsibility would take the society's interests in to consideration also.
One should keep in mind that in CSR, transparency and honesty about what one's business enterprise is doing are paramount to earning the public's trust. In this regard, the Social Responsibility Fund is a good initiative to further promote CSR. Once it is endorsed within a month after all sectoral associations discuss it, it will be ready to lend a hand to further promote social responsibility among the growing private sector.