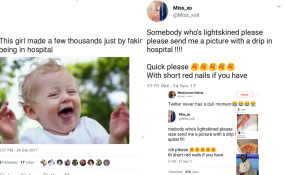 Photo: allafrica.com
By Mwende Kasujja
A woman excited Twitter users when she requested for a photo of a brown woman in a hospital bed with an IV (Intravenous Therapy) on her hand.
The Twitter user, @Miss_xo6, received a photo from another user and moments later she made and update of the South African Rands that had been sent to her to "pay the hospital bill."
The Twitter thread has since gone viral with users weighing in on how young women are swindling men.
Other users asked @Miss_xo6 to share the money with the user who sent her the IV photo.
Here is the thread
Somebody who ' s lightskined please please send me a picture with a drip in hospital !!!!
Quick please 😭😭😭😭😭 With short red nails if you have