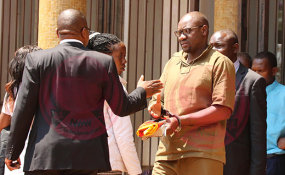 Photo: New Zimbabwe
Zimbabwe protest pastor Evan Mawarire appeared in court on Monday, and pleaded not guilty to the charge of trying to subvert President Robert Mugabe's government, his lawyers said.
Mawarire made the plea at the start of his trial at the Harare High Court, the Zimbabwe Lawyers for Human Rights, which is representing him said in a tweet from the court.
Earlier, Mawarire appeared at the court dressed in a maroon tracksuit and wearing handcuffs, according to pictures tweeted by the Zimbabwe Peace Project, which is monitoring the trial.
The founder of the ThisFlag protest movement was arrested on Sunday at his Harare church and slapped with a second charge of subverting the government. That was after he held a live Facebook video chat on Saturday evening over the growing economic crisis and called for citizens to come together in a non-violent "action that is going to speak to government."
Monday's court appearance is over his role in organising a massive one-day strike last year that shut down many towns and cities.
The Zimbabwe Human Rights Association (ZimRights) on Monday condemned his latest arrest, calling it an "infringement on the liberty of the cleric for exercising his constitutional and fundamental human rights to freedom of speech and to peacefully protest.
"The government is urged to stop the arbitrary arrest of human rights activists, and habitual use of the law to persecute and silence its critics," it added.
Source: News24