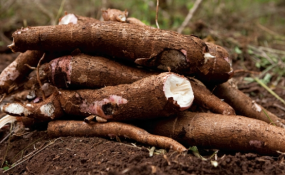 Photo: Daily News
By Michel Nkurunziza
The Ministry of Agriculture has announced plans to ease distribution of new high yielding and disease-resistant cassava variety to farmers in Ruhango District.
This was announced Thursday during the launch of cassava planting for Agriculture Season A in the district .
Fulgence Nsengiyumva, the State Minister for Agriculture said the new variety was distributed to seed multipliers and urged the district to work closely with them to ensure a number of farmers gradually access it.
"Multipliers are provided varieties for multiplication and then return the same amount they received to MINAGRI which later provides them to poor farmers free of charge. The other mechanism is providing the varieties to farmers on credit which they pay after selling their harvest," he added.
Jean Paul Sebarera, a farmer from Kinazi sector said they had scrapped cassava off their menu ever since cassava disease locally called kabore devastated their plantations.
"Some of us no longer eat cassava because of the disease that affected the crop. We now rely on beans and maize so news that we shall soon be able to access new cassava variety is more than welcome," Sebarera said
He said that the new variety was out of reach for the poor.
"One sack of cassava stems can cost up to Rwf10,000 and can only be planted on half an acre. Some choose to plant other crops because of financial constraints yet this region is mostly suitable for cassava," said Jean Claude Ntezimana, another farmer.
Innocent Nzahabwanimana, another farmer said the disease-prone variety cost them dearly.
Initially, hundreds of households were earning livelihoods from selling their harvest to Kinazi Cassava Processing Plant but this is no more, he said.
Minister Nsengiyumva said apart from the new variety churned out other varieties are being developed to be given to multipliers.
He was hopeful that after three or four years other new cassava varieties will be planted should the current one be attacked by disease.
Cassava will be planted on 1,800 hectares in Kinazi sector alone where the processing plant is located while in the whole district 7,700 hectares are targeted of which 18 per cent has been planted, according to Francois Xavier Mbabazi, the Mayor of Ruhango District.
Over 700,000 families grow cassava in 3,980 villages of Eastern, Western and Southern provinces which can produce 1.7 million tonnes, according to figures.
The state minister said some farmers still harvest eight tonnes per one hectare while others are able to harvest 30 tonnes per hectare which calls for more efforts to double production and satisfy processing plants.
According to Emile Nsanzabaganwa, the director of Kinazi Cassava Processing Plant, they currently receive 21 tonnes from farmers yet they have the capacity to handle 120 tonnes per day.