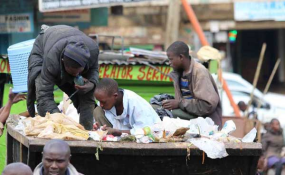 Photo: Daily Nation
By Collins Omulo
Nairobi Governor Mike Sonko says the county will hire street children to help in cleaning up of the city.
Mr Sonko said the street children would be assigned work in the Central Business District and the city county would pay their one-month rent in return.
DRUGS
He, however, told them to quit drugs and crime first and promise not to return to the streets before being hired.
"I hope when I hire you, you will not disappoint me because I am committed to working with you," said Sonko when he hosted a group of street children at City Hall on Thursday.
"I will pay your rent for one month but make sure you do not come back to the streets."
The governor said the plan was part of a major clean-up of garbage in the city in a project dubbed 'operation ng'arisha jiji'.
Garbage has become one of the biggest challenges facing Nairobi, a city that was designed for 1 million residents but now hosts close to 4 million people.
SLUMS
He said the operation had been intensified across all sub counties in Nairobi to ensure a cleaner, healthier environment for all residents.
"It is, therefore, important for us to know that maintaining a clean environment is vital for our survival and as promised, my government will continue to provide the needed resources to clean," he said.
"I call upon all Nairobi residents to be agents of change and active supporters of the environment."
The operation has been carried out in informal settlements of Mukuru Kwa Reuben, Imara Daima, Kariorkor, City Park, Wakulima and Burma markets, among other areas.
DIGITAL BINS
Cleaners have been unblocking sewers, removing campaign posters and clearing garbage heaps.
Mr Sonko said they were planning introduce digital waste bins that send signals when full with garbage.
He has also reiterated that his mission as Nairobi governor is to transform and restore the image of the city and also make Nairobi the cleanest city in Africa.
"My mission as governor is to completely transform and restore our city's once glorious image. I have ordered for the dispatch of more than 50 trucks to immediately begin this process," he said.