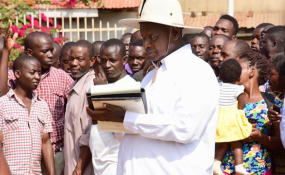 Photo: PPU
By Paul Adude
President Museveni on Monday visited the communities in Entebbe where there have been killings, mainly of women.
"The wanainchi gave me valuable information. We have previously dealt with and defeated more sophisticated crime, including terrorism. We shall apprehend those behind these killings.
I also send my condolences to the families of those who have lost their loved ones," Mr Museveni assured the residents who have been accusing security officers in area of doing nothing as their colleagues are murdered by unknown assailants.
As Mr Museveni was busy investigating the attacks that have left the greater Entebbe, Nansana Municipality and other parts of the country with many unanswered questions, Ivan Katongole alias Jenus, a businessman who was recently arrested in connection with the killings, was appearing before court over murder charges.
However, the prosecution led by state attorney Mr Chris Muganzi asked court to adjourn the case in which Katongole and two other people are alleged to have killed a woman in Katabi town council as the police was still investigating the case.
Court heard that Mr Katongole, his co accused; Andrew Kizito and Helen Nabaggala were responsible for the murder of Rose Nakimuli whose body was discovered naked with a stick in her private parts on August 24 at Kitala in Katabi Town council.
Entebbe Grade I magistrate, Mastullah Mulondo sent the suspects on remanded at Kigo government prison until October 16 when they will return to court for further mention.
They were arrested August 31 after the continued killing of women in Katabi town council with residents pointing at Katongole being responsible for the murders.
Katongole was recently pinned by the minister of internal affairs Gen Jeje Odongo before parliament as the perpetrator behind the killing of 9 women in Katabi Town Council in the past three months in what he said was a spate of ritual murders.
"Mr Katongole wants to protect wealth that includes commercial building under construction at Kasenyi landing site" Gen Odongo told parliament.