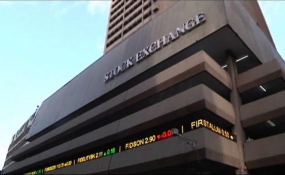 Photo: Premium Times
By Peter Egwuatu
Lagos — Eight council members of the Nigerian Stock Exchange, NSE, have completed their tenure in office and have retired from the exchange.
This is even as Mr. Aigboje Aig-Imoukhuede bowed out as President of the exchange after 56th Annual General Meeting, AGM, held yesterday.
Also, the fist vice President of the NSE, Mr Abimbola Ogunbanjo, emerged as the new president of the NSE.
The council members appointed the successor of Aig-Imoukhuede after the AGM yesterday.
The retired members include Alhaji Aliko Dangote, Muhammad Daggash , Finmal Financial Services Limited (represented by Dr. Umaru Kwairanga); Greenwich Trust Limited (represented by Mr. Kayode Falowo) , ICMG Securities Limited (represented by Mr. Michael Osime), Meristem Securities Limited (represented by Mr. Oluwole Abegunde) , Sigma Securities Limited (represented by Mr. Dunama Balami) and Signet Investment and Securities Limited (represented by Mr. Oladipo Aina).
The newly admitted members to the council include: Chartwell Securities Limited (Represented by Mr. Oluwole Adeosun); Equity Capital Solutions Limited (represented by Mr. Kamarudeen Oladosu); Fortress Capital Limited (represented by Mr. Yomi Adeyemi); Pilot Securities Limited (represented by Mr. Seyi Osunkeye); Planet Capital Limited (represented by Mr. Chidi Agbapu); Woodland Capital Markets Plc (represented by Mr. Patrick Ajayi); Kastina State Investment & Property Development Co. Limited (represented by Mrs. Fatimah Bintah Bello-Ismail); Mrs. Catherine Nwakaego Echeozo ; and Erelu Angela Adebayo.
Speaking at the AGM, the outgoing President, Aig-Imoukhuede said: "As I conclude my tenure as President of the National Council of the NSE, it is with a great sense of humility and fulfilment that I reflect upon three memorable and fulfilling years of service in this prestigious role."
He commended the management of the NSE and outgoing council members for their support to ensure the exchange reaches its present growth and development.
According to him, "Despite the foregoing, our legal structure as a mutual entity increasingly constrains our ability to compete and offer services on par with leading exchanges around the world. And for this reason, I convinced my colleagues in council and our management team to accelerate our timetable for completing the demutualization of the NSE. Today, I am proud to report that this process, which had lingered in the exchange for several years has now advanced to the point of near completion."