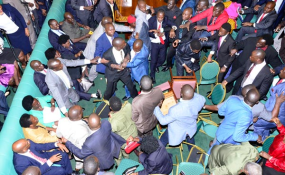 Photo: Alex Esagala/Monitor
By Paul Tajuba
Kaliro Woman Member of Parliament has vowed to go against a section of her voters, who over the weekend confronted her in the district warning her against tampering with Article 102(b) of Constitution.
Ms Margaret Mbeiza told this reporter by telephone that "people who intimidated her were just few. They never slapped me and wanted money yet I had taken hoes" as part of her fulfillment of campaign pledges she made in the run to 2016 general elections.
"No one will intimidate me on age limit debate because I am above 18 years," said Ms Mbeiza who represents the small district, formerly part of Kamuli in Busoga Sub-region.
A section of the media last week reported that residents of Namwiwa trading centre in Kaliro District attacked Ms Mbeiza for supporting the removal age limit from the Constitution to allow President Museveni, who will be above 75, contest for another term of office in 2021.
"I had not gone there to consult them on age limit. I had taken hoes such that people dig and get out of poverty. They started demanding for money saying that government gave us Shs800m. They never chased me and when they started asking for money, we all laughed and I went away," Ms Mbeiza said.
The ruling National Resistance Movement (NRM) party caucus and later the Cabinet endorsed back-to-back a proposal for Igara West MP Raphael Magyezi to seek leave of Parliament to table a Private Member's Bill to, among other things, amend Article 102(b) of the Constitution. The provision caps the upper age for a prospective President at 75 years and the lower to be at least 35.
President Museveni, who in 2005 benefited when MPs lifted the two presidential term limit cap, is seen as a silent mover of lifting the age cap to enable him hang on to power even after 2021. Mr Museveni, 73, has been in power for the last 31 years will not be eligible to contest unless the Constitution is amended.