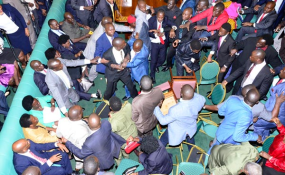 Photo: Alex Esagala/Monitor
By Opio Sam Caleb
Kamuli — Kamuli Municipality was on Monday rocked by gunfire for over three hours as Police battled anti-age limit protesters led by Democratic Party [DP] National Youth Chairman, Moses Bigirwa.
The Protesters, who assembled at Adams Road and addressed a rally over what they called 'the critical need to protect the Constitution', marched to the Taxi Park before being intercepted at the roundabout by police commanded by the District Police Commander [DPC], Collins Kyasimire.
"Defending Article 102 (b) is protecting the Constitution. Defend the constitution before it is too weak to protect you," Bigirwa roared as he flagged off the peaceful march meant to deliver his petition to the Speaker of Parliament and Woman Member of Parliament, [MP], Rebecca Kadaga.
Bigirwa, hurled profanities at the surging policemen and added that they merely wanted to deliver the petition to their legislator Ms Kadaga who doubles as Chairperson of Busoga Caucus and.
Busoga North Police Spokesperson, Michael Kasadha, denied using excessive force to disperse the demonstrators.
"With an ambush of demonstrators who came from nowhere, the police was forced to respond that way to disperse the illegal protest. It could be seen as excessive force but it was commensurate with what they were trying to do," he said of the sporadic gunfire that rocked the Municipality for close to three hours.
He added that the police was provoked after their commander, the DPC, in an attempt to talk to the demonstrators, was punched and shoved.
He advised those with grievances and petitions to handover or those planning to demonstrate, protest, or hold a procession to seek permission from the police so that they are protected 'instead of just waking up to hold the public at ransom'.
DPC Kyasimire defended the use of arms to quell what he referred to as 'an illegal protest and procession that later turned into a demonstration'.
A security operative and analyst who declined to be named for breaching the security code of conduct blamed the police for mismanaging the demonstration and using excessive force to disperse the demonstrators.
"Police should have ignored and watched the demonstrators at safe distance; but as soon as they deployed at the roundabout, they drew public curiosity and worsened the situation by firing in the air to attract the public," he said.
The demonstrators vowed to hold another demonstration on Tuesday at Mbulamuti to reportedly show Ms Kadaga that all is not well and that she should therefore tread carefully.