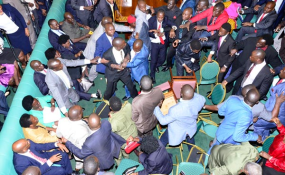 Photo: Alex Esagala/Monitor
By Moses Kyeyune
Kampala — A group of National Resistance Movement supporters comprising mainly party constituency chairpersons have described the proposed amendment of Article 102 (b) to remove presidential age limit from the Constitution, as an attempt to overthrow the supreme law.
The supporters say the idea of removing the cap on age limit is motivated by selfish interests.
In a statement read by their chairperson, Mr Dennis Sekabira, the Nakaseke South NRM chairman the group told journalists at Kati-Kati Restaurant in Kampala, on Monday that they are opposed to the position of the party caucus in Parliament because their schemes would not foster peace in the country.
"This is a dangerous move and endangers the peace we have enjoyed in the country," Mr Sekabira said.
Mr Sekabira said the group is composed of 121 people who are members of the party's National Executive Committee of the party, an organ that is second to the highest Central Executive Committee.
The members, Mr Sekabira said, would not entertain efforts to stifle popular views against deleting the article and the need for a peaceful transfer of power.
"We have decided not to deny our country the only chance to a peaceful transition of power," he said. "Instead of addressing the age limit, the NRM MPs should be more concerned with the implementation of the party manifesto."
They accused colleagues in Parliament who are trying to revoke Article 102 (b) of seeking personal benefits by trying to "blindfold" their party chairman [President Museveni].
The party chairman in Rubaga North, Mr Brian Tindyebwa cautioned NRM MPs against efforts that would create a "monarchy in this country."
He also warned some of them against dragging the army into partisan politics.
"The army will protect all citizens and will certainly not overthrow the Constitution, I want those MPs not to attempt to create a monarchy," Mr Tindyebwa said.
Recently, the State Minister for Investment, Ms Evelyn Anite, one of the proponents of annulling Article 102 (b) bragged that the army is backing their position.
Meanwhile, other dissenting voices have called for proponents of the amendment to seek the central views of the party as opposed to personal interests.
The NRM chairman in Ndorwa East, Ms Grace Ankunda Bekunda said the MPs need to look beyond Mr Museveni's interests to stay in power beyond the age of 75 and consider the interests of all citizens and county first.
"Do not look at Museveni, look at the 40 million Ugandans, whose lives are in danger," she said.