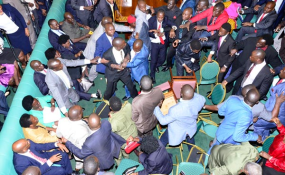 Photo: Alex Esagala/Monitor
By Sadab Kitatta Kaaya
After their brazen attempt to introduce the anti-age bill in Parliament was thwarted last Thursday, by a determined loud opposition, NRM strategists returned to the drawing board with some suggesting recourse to physical violence to muscle the highly divisive amendment through the House.
On Friday, a day after the failed attempt, proponents of the anti-age limit bill were locked up in a series of meetings -- following up on their sit-down with Speaker of Parliament Rebecca Kadaga on Thursday afternoon.
One radical course of action they contemplated, sources said, is the use of raw force to defeat opposition to their wish to open a gateway towards a possible life presidency for Presidency Museveni.
The strategists were adamant that given their numbers, they can ably deal physically with any resistance from the opposition.
"Some 30-something MPs can't fail us and I can assure you, we shall not allow them to repeat what they did on Thursday," a senior NRM party official at parliament told The Observer.
"We are ready for them; we shall lift them and throw them out of the chamber such that we can transact business in peace," the official who preferred not to be named said.
The suggestion to physically eject opposition MPs came moments after the Thursday afternoon meeting with Kadaga, which was attended by NRM members of the Parliamentary Commission namely, Robinah Nabbanja (Kakumiro Woman), Arinaitwe Rwakajara (Workers) and Peter Ogwang (Usuk).
They were joined by the Government Chief Whip Ruth Nankabirwa (Kiboga Woman) and the mover of the bill, Raphael Magyezi (Igara West).
Deputy Speaker Jacob Oulanyah who on Thursday, September 22, deferred the tabling of the controversial motion, also attended the meeting.
A source in the meeting said Kadaga asked for time to study their motion, as well as the counter proposal of Kassanda North MP Patrick Nsamba Oshabe for a Constitutional Review Commission, plus a pile of other related petitions.
She also reportedly told the group that it was important to let tempers calm down so that all proposals are considered in an environment, which is not as tense as it was last Thursday.
During a subsequent press conference at parliament, Nankabirwa confirmed that her group met the parliamentary leadership. She also spoke with bitterness about "selfish people" who had set them back in parliament.
"We were denied an opportunity to transact business that concerns the people because of selfishness," Nankabirwa said, wondering why MPs opposed to the lifting of the age limit still went on with their plan to disrupt the plenary session yet by 1:30pm all MPs had been notified that the matter was off the table.
"The bill will anyway come, there is no reason why a member should be gagged...it can't die in the corridors of parliament, it has to be disposed of in the most appropriate manner," Nankabirwa said.
NUMBERS
Nankabirwa's criticism of the chaos, which unfolded in parliament, did not extend to her colleagues on the ruling party side even though they, too, got involved in the spectacle.
Mathias Mpuuga (Masaka municipality), one of the opposition's key strategists, told The Observer last week that the opposition will not allow NRM to use its tyranny of numbers in the House at Uganda's expense.
"Mere majority in the House cannot be used to circumvent the good prosperity of the country; it has been our clarion call that any attempt to amend the Constitution on very fundamental issues should be a consultative process," Mpuuga said.
A collision course appears to have been set by the NRM movers in light of their Friday discussions well aware of the opposition's resolve never to walk out again.
"We agreed that there shall never be a walk-out of the House again because that is what they [NRM] want...it will never happen again because we are dealing with a mob, which doesn't listen," Ssemujju Ibrahim Nganda, the chief opposition whip said.
While Nankabirwa told journalists that the ruling party would not resort to violence, ruling party MPs who spoke at her press conference did not hide their belligerence.
"If they think we are goats, that all of us on the NRM side don't understand, they should know that we are ready to deal with them. If it comes to flexing, my friend, they should not joke," Katerera MP Hatwib Katoto said.
The opposition strategists are understood to have met on Friday and Saturday but had not concluded their plan by press time.