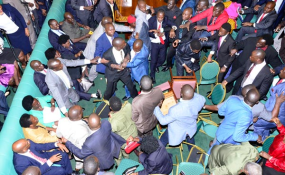 Photo: Alex Esagala/Monitor
interview
By Sadab Kitatta Kaaya
The controversial anti-age limit private member's bill, which he will introduce in parliament, has thrust Igara West MP RAPHAEL MAGYEZI into the public spotlight more than anything else in his two terms in the House.
In a September 22 interview with Sadab Kitatta Kaaya at Parliament, Magyezi, the designated mover of the private member's bill which seeks to delete Article 102 (b) and in so doing remove age limits for presidential candidates, discussed his intention and motivation to move the bill.
Below are the excerpts.
What motivated you to move a bill like that?
I was motivated by the ruling of the Supreme court last year, and the justices' decision and observation that most of their recommendations and decisions are actually not implemented. And that we tend to bring these amendments late, which compromises the efficiency of the elections.
As somebody who has gone through the elections, I know what it means, and I thought the [Supreme] court was actually making a good observation and a good decision when they [justices of the Supreme court] said, "In the two years of the new parliament, we should conclude these election-related amendments."
Exactly this is what I have done. I waited for the whole of last year, we are now almost into the second half of the new year and there is nothing being done by the executive. When I look at the Constitution, I find this particular part, which can actually be handled by a private member.
What I am doing is purely legal, purely in the constitution and within the mandate of a member of parliament.
Lifting the age limit was never part of the recommendations of the Supreme court...
The court talked about election-related matters. It is my view, you may contest it, but my view is that qualifications for a candidate to stand for elections are an election-related matter.
If elections are about candidates who stand, then you cannot say that the qualifications of those candidates are not important. I think it is also important to realise that the bill is not about the age limit; the bill is big, it is about all these other matters related to the elections, particularly to the presidency.
Like?
For example, filing and determination of a [Presidential election] petition. In case you go for elections as a candidate, and you are not happy with the result, at the moment, the time you have to file a petition is 10 days and court has 30 days to conclude the matter.
The court itself has pointed out that this is highly inadequate, and they have called on us to give them more space, more time.
I have thought and said, maybe, if we gave the person petitioning, say, 15 days and you, the respondent are given the [same period of] time to file your reply, and also expand the time given to the court, perhaps, this could help. This would imply another amendment to the constitution in terms of election days.
At the moment, the Constitution says that the election of a president must be held within the first 30 days of the last 90 days of the president's term. My proposal is to hold the term of the president constant and see if we can bring forward the time for elections; give it another, say, 30 days.
That would mean amending the constitution such that the time for elections is not in the first thirty days of the last 90 days of the term of the president but perhaps, I would propose the first 30 days of the last 120 days of the term of office of the president.
The other amendment I'm proposing is a re-run or re-election. Under the current law, in case court annuls an election, the Electoral Commission [EC] is given only 20 days to organise a fresh election. The court has pointed out that [this period] is too short. We are lucky that [a presidential election has not been nullified] here, but it has just happened in the neighbourhood, in Kenya. They have to redo it in 60 days.
You and me know that here in Uganda, if there is a new election for a member of parliament, the EC is not given 20 days but, rather, 60 days. If that applies in the case of an MP, really, Ugandans, do you want to convince me that we continue to [keep] that in the constitution that in case of a rerun, a presidential [by-election] should be held in 20 days? I'm saying, no! Members, MPs let's amend this. If you think that I am wrong, bring your proposal.
In terms of the age limit, why are people simply thinking about the presidency?
The constitution talks about the election of a district LC-V chairperson and it says that for anybody to stand for [election] as an LC-V chairperson, you must be 35 to 75 years.
So, you can see, I don't know why people are simply narrowing this... I think people must be thinking about President Museveni and some people may think that I am bringing this [amendment] to make sure that Museveni stays in power.
It is actually the reverse, if you want to protect a certain individual, then you put limits. Colleagues, listen to that. It is when you want to stop any other competitor that you protect, put a fence; put a ring around a certain limit.
But the minute you open it up, you're simply saying, "Are you below the age of 35 but a registered voter? Are you above 75 [years] but a registered voter? You're qualified to be an MP in terms of academic qualifications? Please come on board."
Can't all these amendments be handled through a Constitutional Review Commission (CRC) and an omnibus bill? Why don't you back Hon Patrick Nsamba Oshabe's motion proposing the same?
I don't have a problem with Hon Nsamba's motion [but] there is no way you can tell me to put up a commission to handle amendments of the constitution unless you first define what those ones are. Secondly, a CRC will not handle what I am talking about, which has a timeline of two years of the new parliament.
Certainly, I have no doubt that government will do that [because] it is in their mandate, they will bring comprehensive amendments to the Constitution but that does not preclude the rights of an MP to handle this now, which has a timeline.
If we don't handle this now, because I know the other question you may ask, "Can't we amend the age limit two years upfront?" No. some of these [amendments] have a restriction. If you want to amend it, you must get two thirds of parliament. I am of the view that this is the time, because it is outside elections. People have not started going to their constituents for campaigns.
But if you want to wait for another two years, and you want to convene parliament and have the big numbers, you may face a serious challenge.
So, for me, this is the time, this is timely. What I am doing is totally legal; it is totally in the Constitution, it is my mandate as an MP.
This is not the first time the Supreme court is making such recommendations, why are you acting now and not in the previous parliaments?
Well, that is a good question and I like it. The Supreme court itself made an observation "that most of the recommendations for reform by this court in the previous presidential elections petitions have remained largely unimplemented."
It may well be that no authority was identified to follow up their implementation and that is why they [Supreme court] said that "in this particular case therefore, we are giving parliament, the first two years of its establishment to handle these particular electoral amendments."
Perhaps in the previous cases, there was no specific timeline and thus no action, but now, we have certain cases that require the two years of parliament.
Are you trying to imply that the executive in that regard has abdicated its duty?
It is a good question you should actually ask the executive, the government chief whip [Ruth Nankabirwa] and the prime minister [Dr Ruhakana Rugunda] should answer that, but I think government has delayed to act. I have looked into the law and I found out that I can do something, and I am permitted to do it.
How do you feel about the anxiety, tensions and inconveniences you have stirred in the country?
The inconveniences are regrettable, the anxiety is understandable. I hate to know that people have come up to express their views; their support or dislike and they are beaten and chased.
I hate that kind of approach and I condemn it. But the anxiety is understandable because this is a very important matter; it is not a light subject [because] it touches the power of the people under the Constitution.
It touches on the fear of the people, who think that maybe an individual will use the lifting of the age limit to stay around. But the responsibility goes back to us, the MPs. If we continue telling people that this one [anti-age limit supporter], we shall fight, we shall do something wrong, then you're actually inciting the community.
Some say you have been paid handsomely by the principal beneficiary of your bill.
That is total rubbish... Magyezi has received money, Magyezi has been given a house, a new Land Cruiser, Magyezi has been given this... I don't know what has gone wrong with our community to think that whenever you do something good, they relate that to tangible profit or business.
I haven't received even Shs 10,000 and I don't need it because I am doing my duty. I am still staying in my home; I don't need to begin staying in State House.
The only thing you can talk about is my security. Government has given me security because I need it. I am entitled to security as an MP but if I say I need security to beef up what I have, government has an obligation to do that. Why do I need [extra security]?
I can read to you a number of messages on my phone threatening violence against me and my family, and I don't take that for granted. If somebody says, "we are going to kill you; we are going to hurt your family," do you want me to sit and say that everything is okay? I can confirm, yes, I am secure.