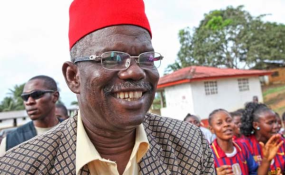 Photo: The New Dawn
By J. Burgess Carter
Nimba County Senator Prince Y. Johnson has described Senator George Manneh Weah as someone who is unable to control his followers, and as such, any decision to elect him as President of Liberia will send the country back to war. "I am appealing to Ambassador George Weah because you have not become President yet, but you turned loose your men on people to stab them. When you become President, this country will go back to war," he warned.
Sen. Johnson, standard bearer of the Movement for Democracy and Reconstruction, in an interview over the weekend on the recent fracas in Sanniquellie, Nimba County between members of the Coalition for Democratic Change (CDC) and Liberty Party (LP), said it was unacceptable for anyone to go to his county, Nimba, to shed blood.
Senator Johnson said based on communications he received from the National Elections Commission (NEC) and its magistrate in Nimba, Liberty Party was granted permission to have a rally in that area.
"I cancelled my scheduled September 20 trip and rescheduled it for the 29th because as one seeking leadership you should exercise all restraint by making sure that our elections are violence free. It is not anyone's birthright to be President, therefore Senator Weah should not impose his will. I think the CDCians headed by their leader George Weah were in the wrong."
Liberty Party pickup blocking the way, preventing the CDC pickup from passing through in Sanniquellie, causing huge commotion between the two parties and resulting in the stabbing of one person.
Senator Johnson, who considers himself the godfather of Nimba, lamented that it did not matter whether the individual who was reportedly stabbed belonged to Liberty Party or any other party, "the fact is that he is a Liberian and from Nimba."
"Mr. George Weah wants votes that include also Nimba, if they love him. He has gone to my county to shed my people's blood and this is unacceptable and the people of Nimba and everyone will be informed not to ever vote for George Weah. Our people are mad and very angry and until an apology is extended to us, we will tell all Nimbaians (1.2 million) not to vote for Weah."
The controversial Nimba strongman emphasized that Senator Weah has no control over his men, "just as Charles Taylor had no control. I had control over my men in combat."