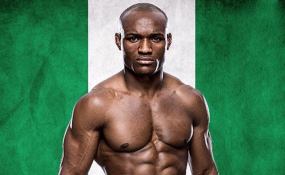 Photo: Usman84kg/Twitter
By Socrates Mbamalu
African athletes are flexing in boxing with fighters such as Dereck Chisora, Samuel Peter and recently Anthony Joshua making a mark in the sport. The Ultimate Fighting Championship (UFC) (mixed martial arts) is not as popular on the continent as boxing, but with the recent win of Nigeria's Kamaru Usman, the exciting sport might attract new African audiences.
Kamaru Usman was a bit of an unknown name in Nigeria until recently. The 30 year-old welterweight nicknamed 'Nigerian Nightmare' is ranked 12th in the Ultimate Fighting Championship (UFC). Usman initially ranked 13th prior to his fight with Servio Moraes. The Nigerian fighter extended his win streak to six and defeated Brazilian Moraes with a first round knockout.
After the fight Kamaru said, "Whoever is in charge of making those rankings, whoever it is - or whoever the collective group is that's in charge of making those rankings - you should be ashamed of yourself."
Kamaru whose entry song to the fight was Nigerian musician Olamide's wo, carried a Nigerian flag with him. Fellow African UFC fighter, Francis Ngannou who's from Cameroon came to support his friend during the fight.
Kamaru said, "You had me at 13th; are you kidding me? I am a problem in the division. There is not one guy that wants to take this fight - not one. How many people do you know calling me out? There's not one guy who wants this fight."
Kamaru challenged everybody ahead of him saying, "Tonight, I needed to make a statement. I needed to put a stamp on this division and let them know that there's not one guy who can hang in there with me."
The UFC is not a popular sport in Nigeria or across Africa. Kamaru's win has ignited interest on the sport among Nigerians. Kamaru was previously set to fight Moraes in 2016 but he came down with an injury. Moraes was undefeated in seven fights until he met with Kamaru.
During the post-fight interview Kamaru paid homage to his country Nigeria in Pidgin English saying, "Naija, we don land. Them say we no fit do am; I go show them say Naija no dey carry last."
"Naija we don Land"! I go show dem sey #naija no dey carry last 👊🏾💪🏾🇳🇬 Song:Wo by @olamide_YBNL #nigeriannightmare #nigeria #standup pic.twitter.com/pqnfKtBfB8