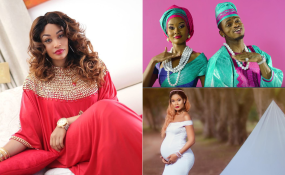 Photo: allafrica.com
By Thomas Matiko
Just as the Diamond-Zari love storm seems to be settling down, the crooner's father has weighed in on the matter of his much publicised affair with video vixen Hamisa Mobeto.
Diamond recently confessed to having cheated on Zari with Hamisa and siring a son with the model.
Zari took to her social media platforms thereafter to share one cryptic message after another, claiming in one of the messages that she did not know of the affair as Diamond had alleged in an interview. However, on Monday, after she celebrated her 38th birthday over the weekend, Zari took to Snapchat to share a video of her being driven to the gym by Diamond. In the video, Zari panned the camera around the car for fans to see Diamond on the steering wheel. She was in the company of one of Diamond-owned Wasafi Records artiste Harmonize who sat at the back. She later uploaded another video where Diamond is seen shopping with their son Nillan.
VISITED GRANDSON
In a video uploaded by a popular Tanzanian blog, Abdul Naseeb shared his thoughts about the Diamond love triangle after visiting his grandson Abdulatifah upon Hamisa's invitation.
Abdul Naseeb wants the two women (who are both Muslims) to recognise each other as co-wives and co-exist peacefully as per the teaching of their religion that allows a man to marry up to four women as long as he is able to provide for them fully.
"Mimi mwanzo nikiwa kama baba Diamond, ningependwa mwanzo Zari aniletee wajukuu zangu niwaone au anaweza kuniambia sehemu gani niende nikawaone. Halafu pili awe na moyo wa uvumilivu, mtoto wa kiume huwa mtu wa kudanganywa na mradi kashaambiwa kuna mke mwenzio basi hapo kikubwa ni kuwa na heshima na adabu. Zari kama Zari na Hamisa kama Hamisa waheshimiane wawe pamoja waangalie maisha. Zari asipende kuwasikiza waswahili akae angalie yake na Hamisa pia.." Adul Naseeb has voiced.
(First of all I would like to ask Zari to bring me my grandkids so that I can see them. Secondly, Zari should have a heart of humility, boys are bound to make mistakes and because she has now been informed that she has a co-wife, all they need to do is have respect for each other. Zari and Hamisa should co-exist peacefully as they carry on with their daily lives. These things do happen.)