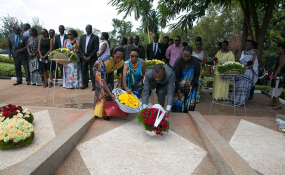 Photo: New Times
By Elisee Mpirwa
The umbrella body of Genocide survivors' associations, Ibuka, has said they will sustain the momentum to push for declassification of crucial files that are in the hands of the French authorities despite the latter's continued efforts to cover up for Paris's role in the 1994 Genocide against the Tutsi in Rwanda.
Ibuka officials were speaking yesterday shortly after it emerged that the French public prosecutor's office had opened a full-scale inquiry into allegations of complicity of a French bank in the 1994 Genocide against Tutsi.
BNP Paribas Bank has been accused by three groups of having contributed toward a $1.3 million purchase of arms that were sent to Rwanda during the Genocide in June 1994, in breach of a standing UN arms embargo.
The full-scale inquiry follows a preliminary investigation into the matter that began earlier this year, when the three non-government organisations filed a complaint over the matter.
The petitioners include Sherpa, Collective of Civil Parties for Rwanda, and Ibuka-France chapter.
Ibuka president Jean-Pierre Dusingizemungu told The New Times yesterday that despite French authorities' attempts to block the effort of the three groups, survivors won't be discouraged in pursuit for justice.
"All we have to do now is to wait and see the outcomes of the inquiry. But there is ample evidence to prove that the bank was involving in bankrolling the genocidal machinery," he said.
"It is the only bank that replied in the affirmative to unblock sufficient funds for the purchase of weapons by the Rwandan government that prepared and executed the genocide".
Dusingizemungu added that several other banks had rejected to facilitative the murderous effort of the genocidal government in Kigali that enjoyed the backing of the French government of the time.
"Other banks were reluctant to the offer support but BNP proved to be loyal to the French government. We know that there are people out there who want this case to be dropped. But we will never stop seeking justice," he added.
In France, the opening of a full-scale inquiry does not imply guilt and does not automatically lead to a trial.
Rather, it does imply that investigators believe the complaint or information gleaned during initial inquiries merits further investigation.
Asked by Radio France on this matter, BNP responded that "this is the mechanical and compulsory follow-up in the context of a complaint of this type."
"This is by no means a new development. These are old facts way back to 1994. The Bank informs that it has not communicated the complaint announced by the media, and that it does not know the substance of the complaint, it's not possible to comment further."
Investigating judge Alexandre Baillon of the genocide pole of the High Court of Paris is in charge of the investigation.