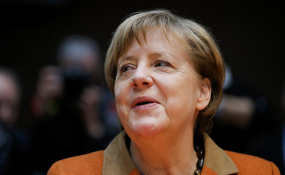 Photo: RFI
By Ndapewoshali Shapwanale
GERMANY will pump N$2 billion into various projects in the areas of sustainable development, transport and logistics, sustainable use and management of natural resources.
The announcement, made by the German ambassador to Namibia, Christian Schlaga, on Friday, is the outcome of negotiations on development cooperation between the Namibian and German governments that was held on 14 and 15 September this year.
Speaking at a press conference in Windhoek, Schlaga said the commitment is a continuation of Germany's support through technical assistance to Namibia.
"Let me, from my perspective, underline that whatever has been agreed is an agreement, a consensus has been reached by many months of talks, checks and balances back and forth to make sure that it is the Namibian government's input that we react to," the ambassador said. He added that all projects and ideas were brought forth by the Namibian government. The new commitment is in addition to a N$47,3 million verbal commitment for technical cooperation made in 2016 as well as a N$449,4 million financial cooperation commitment for 2009, 2012 and 2013.
Economic planning deputy minister Lucia Iipumbu, who also spoke at the press conference, said these commitments will now be reprogrammed to support other projects. Iipumbu said the N$1,15 billion - at yesterday's exchange rate - is a grant while the N$950 million is an interest reduced loan.
The deputy minister added that the cooperation between the two governments focuses on three focal areas which are the management of natural resources, sustainable economic development as well as transport and logistics.
"This did not, however, disregard areas that are mutually agreed, which fall outside our cooperation," Iipumbu said, adding that Germany's support is in line with Namibia's fifth National Development Plan.
Some of the listed projects include the NamPost Microfinance Credit Line, promotion of vocational education and training, NDP5 - support programme to road maintenance and rehabilitation and support to community conservation programmes. Shlaga said Germany was happy with the implementation of the other projects funded by his government.