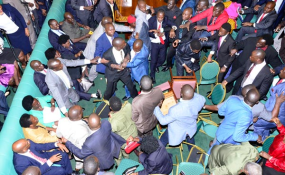 Photo: Alex Esagala/Monitor
By Monitor Team
Kampala — The much-anticipated debate on the removal of the presidential age limit may not happen on Tuesday as expected, with the subject missing on the day's Order Paper circulated by Parliament.
An Order Paper itemises issues legislators are to discuss on a particular day, but it can be amended even on the floor of Parliament. Speaker Rebecca Kadaga is expected to preside over the House where heavily-armed military and regular police have heavily deployed. The proceedings are expected to begin at 2pm, but MPs are already trickling in.
Igara West MP Raphael Magyezi threw a spanner in the works a fortnight ago by saying he required leave of Parliament to table a motion to amend Article 102(b) of the Constitution and scrap the provision that caps the upper age for a prospective President at 75 years.
His move which has since been endorsed by both the ruling National Resistance Movement (NRM) party and Cabinet has prompted counter notices for introduction of six other proposed Private Member's Bills.
The flood of these notices has put the Speaker's office in a dilemma and a meeting on Monday between Ms Kadaga and a government delegation led by Prime Minister Ruhakana Rugunda ended without a way forward.
The premier's team had tried to persuade the Speaker to include MP Magyezi's notice on the Tuesday Order paper. The Speaker has previously ruled against attempts to amend the supreme law through Private Member's Bills and demanded that the government tables a comprehensive Constitution review Bill.
The government is yet to explain why it has not to-date tabled a comprehensive Bill to amend the Constitution while choosing to throw its weight behind the Magyezi motion. The Supreme Court in its March 2016 decision on Amama Mbabazi's petition challenging the re-election of Museveni directed the Attorney General to table required Constitution amendment proposal within two years from the date of judgment.
MPs and Ugandans will keenly be watching item number 2 on the Order Paper, on communication from the chair, during which Speaker Kadaga is expected to announce her position of the different notices for introduction of motions to amend the Constitution.
Other items on the Tuesday Order Paper include ministerial statements on Uganda's readiness to produce oil by 2020; a disease attack on eucalyptus plantation in the western Kyenjojo and neighbouring districts; and, the death of a suspect in police custody in Maracha District in West Nile.
The National Biotechnology and Biosafety Bill, 2012, is expected to be read for the second and possibly third time today, making it probable to be enacted on Tuesday.