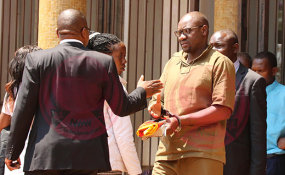 Photo: New Zimbabwe
By Staff Reporter
HOME AFFAIRS Minister Ignatius Chombo has issued a chilling warning to the country's mainstream and social media users found spreading "alarmist" messages that the country's economy has sunk to the 2008 hyper inflationary era.
In a strongly worded statement released Sunday, the top Zanu PF official said that the country's law enforcement authorities were monitoring social media amid signs of panic by the Zanu PF led government.
"The Ministry of Home Affair's attention has been drawn to a sudden spate of irresponsible press and social media reports claiming that there's chaos in the currency markets that has precipitated widespread panic buying of basic commodities due to their alleged shortage or sky rocketing prices.
"It is notable that the running thread of these hyperbolic press and social media reports is their propaganda that the country has suddenly slipped back to the hyper inflationary days of 2008."
For the first time since government went against public sentiment not to impose bond notes into the country's fragile economy in 2016, prices have soared since last week, triggering panic buying by locals who still have fresh memories of the 2008 mayhem.
Reports have linked the increases to the sudden fall in the value of the bond note which authorities had pegged at par with the greenback.
Zimbabwe's central bank has moved to allay fears the country was on a fresh economic slide while media reports on Monday linked Finance Minister Patrick Chinamasa to promises of a pending injection of US$600 into the economy ostensibly to stabilise the market this week.
Meanwhile, Chombo has chosen to deal with government's security concerns, insisting that claims of an economic tornado were the creation of government detractors.
Firebrand pro-democracy group, Tajamuka last week threatened fresh protests against central bank governor John Mangudya who has failed to follow through his 2016 resignation promises if his bond note intervention failed to ease the economic crisis.
Similarly, fierce anti-government critic and cleric, pastor Evan Mawarire was Sunday arrested by armed police during a sermon at his Harare church and charged over claims of spreading alarm through social media.
Chombo all but confirmed government fears in his statement.
"Of grave concern to the Ministry is that these reports have all the trappings of a politically coordinated criminal agenda by some well-known renegades and malcontents who now seek to disturb the peace in the country to cause alarm and despondency in pursuit of an illegal political programme," he said.
"Spreading alarm and despondency is not an expression of democracy nor is it media freedom, it is a criminal offense and is therefore punishable.
"In the circumstances, Government is closely monitoring the press and social media reports in question with a view to taking decisive action to deal a telling blow to the perpetrators of the crime in terms of the laws of the country's criminal justice system."