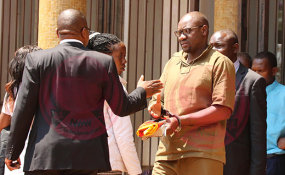 Photo: New Zimbabwe
By Staff Reporter
PRESIDENT Robert Mugabe's government has been warned against threatening and blaming citizens for the economic problems faced by the country.
Opposition parties said government must take responsibility for poor policies which plunged the country into panic mode a few days ago when the bond note significantly tumbled against the American dollar.
Shops and fuel stations were flooded with customers buying commodities for storage trying to cushion themselves against shortages in the foreseeable future.
Home affairs minister Ignatius Chombo then issued statement threatening to arrest those reporting the shortages on social media and other platforms.
However, People's Democratic Party (PDP) spokesperson Jacob Mafume said attributing the panic buying which happened over the weekend to alarmists without recognizing evident signs of recession represented rank dishonesty.
"The PDP is irked by Zanu PF's shocking shift of blame to the citizen, blaming them for panic buying when everything is normal. Zanu PF have decided to heap the entire blame arsenal on social media activity ignoring the facts on the ground," said Mafume.
Govt clueless
Morgan Tsvangirai's MDC-T party said symptoms are clearly pointing to another hyperinflationary environment similar to that experienced in 2008 but government, in its cluelessness and greedy, is fighting hard discredit the reality.
"As the economic situation spirals out of control, the Zanu PF regime is utterly and completely clueless regarding what steps should be taken to arrest the collapsing economy," party spokesperson Obert Gutu in a statement on Monday.
He further challenged adult Zimbabweans to register to vote despite inefficiencies of the biometric voters' roll (BVR) exercise launched last week.
"We appreciate that ZEC (Zimbabwe Electoral Commission) has embarked on a painstakingly slow and inefficient BVR exercise but then we cannot afford to be apathetic by deliberately failing to register to vote," said Gutu.
Voter apathy
He added, "This is exactly what the collapsing and faction-infested Zanu PF regime would like see happening because, the world over, fascist and dictatorial regimes are aided and abetted by voter apathy.
"We cannot continue to be cry-babies. The future of our great country is firmly in our hands."
Historically, youths have been found to be the biggest constituency affected by voter apathy despite them constituting approximately 60 percent of the 13 million population.
However, realising their potential to define the 2018 election outcome, virtually all political parties have made young people their primary campaign target.
Meanwhile the Zimbabwe Peace Project also condemned Home Affairs minister Ignatius Chombo against threatening civilians for sharing their lived realities within the confines of the law.
"This is an attempt by the minister to criminalise legitimate dissent against what citizens see as mismanagement of the economy which undermines the enjoyment of their socio-economic rights as enshrined in the constitution," said the civil society organisation.
The remarks come at a time activist cleric Evan Mawarire is facing incarceration over social media posts on how poor governance has plunged Zimbabweans into abject poverty.