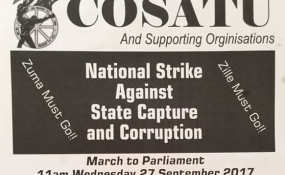 Photo: Twitter
Lieutenant General Elias Mawela, the acting chair of the National Joint Operational and Intelligence Structure (Natjoints), has warned those who plan to take part in Cosatu's nationwide mass protest action on Wednesday to respect the country's laws as they do so.
The protest action is against state capture and corruption.
"Protestors are reminded that while they have a right to protest or demonstrate; the rights of all in South Africa, as well as the laws that govern such protests, must be respected...no criminality, including intimidation and any form of lawlessness, will be tolerated," Mawela said in a statement sent out on Tuesday evening.
Mawela said measures had been put in place and police had been deployed to ensure the maintenance of public order as protesters embark on strikes and protests.
Natjoints, according to the statement, is a government structure made up of various stakeholders mandated to "plan, coordinate and implement all law enforcement, crime combating and other operations relating to safety, security and stability in South Africa".
"It is in the best interests of all parties to work together to avoid unnecessary conflict situations. People who do not follow the correct procedures and the rule of law will be held accountable," said Mawela in the statement.
Source: News24